UW-RF Home > University Communications Home > This Month's News Releases
University Communications
For more information contact mark.a.kinders@uwrf.edu or brenda.k.bredahl@uwrf.edu.
CAFES Names Distinguished Agriculturalist
By Jonathan Drankwalter
UWRF University Communications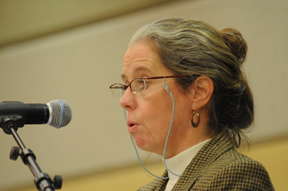 MAY 2, 2008--The UW-River Falls College of Agriculture, Food and Environmental Sciences presented Shaun DuVall with the 2008 Wisconsin Distinguished Agriculturalist Award at the college's annual banquet held on April 24.
This prestigious award is given to an individual in the agricultural field who has demonstrated outstanding leadership and service to the agricultural community.
DuVall's accomplishments towards agricultural workplace diversity and cultural understanding have made her an excellent selection for this year's award, says CAFES Dean Dale Gallenberg.
"I do the work that I do out of love and respect for the people I work for," said DuVall upon accepting the award.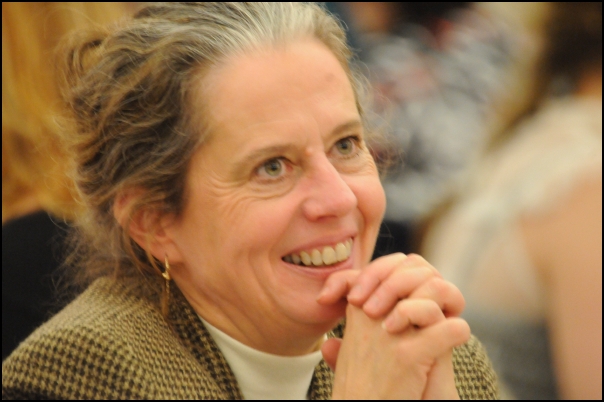 DuVall grew up in Roseville, Minn. She received a B.A. from the College of Saint Benedict and her M.A. in education at UW-La Crosse. She became a Spanish teacher at Alma (Wis.) High School, but she would soon find herself making a dramatic impact on the agricultural community. An agricultural entrepreneur, she is the proprietor and director of SJD Language and Culture Services, and also works for Durand (Wis.) Public Schools in the English as a Second Language program.
During the 1990s there was an influx of Mexican workers on the Wisconsin area dairy farms. This enabled farmers in the area access to a dependable supply of high quality workers, but it also created a gap in communication and cultural understanding.
John Rosenow, the 1988 Distinguished Agriculturalist Award recipient and a Buffalo County milk producer, along with Carl Duley, the UW county extension agent for Buffalo County, recognized the difficulties that the communication barriers created between local farm owners and their Mexican employees. They enlisted the help of DuVall to examine the situation.
DuVall quickly saw these communication problems that Wisconsin and Minnesota producers were having and began providing interpreting services between the farmers and their Mexican employees. She recognized that diversity and cultural differences also needed to be addressed in order for farmers to retain good employees, as well as to develop mutual respect for positive long-term working relationships.
This led to the founding of the Puentes/Bridges Program, where DuVall currently serves as director. This nonprofit organization organizes Spanish language and cultural understanding trips to Mexico for Wisconsin and Minnesota farmers, Wisconsin healthcare professionals, UW Extension professionals, and students at UW-River Falls and UW-Eau Claire. It also arranges for noted Mexican authorities on Mexican culture, rural sociology and rural economy issues to speak to U.S. employers, universities, and other organizations.
Through her dedication to Puentes, DuVall is a recognized authority and leader in diverse agricultural workforce issues. She is also versed in employee relations and human resource management development.
"We can take the lead and teach those here and in other parts of the country and world, that with understanding, compassion and concern we can create better businesses, and a richer life for ourselves, our families, our employees and their families here and in Mexico," said DuVall. "We can connect people from very different places in a real and human way, and make a difference."
DuVall's SJD Language and Culture Services consults with dozens of farmers, other types of employers, and other organizations that need help concerning language and cultural issues. With 34 percent of the agriculture workers in the states being foreign born, DuVall says there will continue to be a need for these programs to bring awareness about different cultures and communities.
DuVall has been featured on ABC News Nightline and in the Milwaukee Journal Sentinel and Dairy Today, and has spoken twice at the North American Association of Secretaries of Agriculture.
DuVall is a contributing writer to Progressive Dairyman magazine and El Lechero. She is a member of the American Translator's Association, a council member for St. John Lutheran Church, serves on the Latino Outreach Committee for the La Crosse Synod ELCA, and is enrolled in the Wisconsin Rural Leadership program.
UW-River Falls CAFES professors Dennis Cooper and Gregg Hadley nominated DuVall for the award. "Shaun makes agriculture better by making producers more profitable, increasing safety in the farm workplace, and improving the producers' and employees' quality of life," said Hadley. "Her passion for her work is highly contagious and she energizes all who work with her."
The Wisconsin Distinguished Agriculturalist Award was first presented in 1970. Nominations are made by faculty, staff, students, alumni and friends of the college. Previous recipients include Wallace H. Jerome, founder of Jerome Turkey/The Turkey Store in Barron, Wis., Rod Nilsestuen, current secretary of the Wisconsin Department of Agriculture, Trade and Consumer Protection; and Bob Bosold, long-time farm news broadcaster for WAXX and WAYY, known as the "voice of agriculture" in the Chippewa Valley.
-30-
Last updated: Thursday, 22-Apr-2010 16:09:01 Central Daylight Time