UW-RF Home > University Communications Home > This Month's News Releases
University Communications
For more information contact mark.a.kinders@uwrf.edu or brenda.k.bredahl@uwrf.edu.
CAFES Names Outstanding Teacher
By Jonathan Drankwalter
UWRF University Communications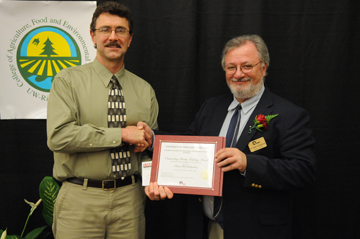 MAY 2, 2008--University of Wisconsin-River Falls College of Agriculture, Food and Environmental Science Dean Dale Gallenberg (right) presented plant and earth science Professor Michael Kaltenberg (left) with the CAFES 2008 Outstanding Faculty Teaching Award at the 42nd CAFES Awards Banquet on April 24.
This is the highest honor that CAFES bestows on its faculty members. In addition to recognition by CAFES, the recipient also receives a teaching award of merit certificate from the North American Colleges and Teachers of Agriculture (NACTA) as this year's designee as the outstanding teacher and faculty member of CAFES.
Kaltenberg, of River Falls, joined UWRF in 1980 as an assistant professor of resource management. In the plant and earth science department, he has served as lead faculty member for the conservation program major with more 100 students, and is an integral support member for the land use and environmental science majors. He also formally advises more than 60 students annually.
Kaltenberg also serves as a coordinator and supervisor for the environmental education programs for St. Bridget's and Rocky Branch elementary schools in River Falls.

"He provides leadership for the Wisconsin agricultural education curriculum in forestry and environmental education," said Gallenberg.
Kaltenberg's specialization is forestry, and he developed and instructs two of the more unique courses offered in plant and earth science: chainsaw safety training and wildfire management training.
"Mike has worked diligently to develop and maintain the UWRF school forests, which are used for his classes and by the River Falls community for outreach programming," said Gallenberg.
Kaltenberg is a certified tree farmer through the American Forestry Foundation, a certified Minnesota tree inspector, and a certified chainsaw training instructor. He is a co-founder and past president of the West Central Chapter of the Wisconsin Woodland Owners Association. He is also a member of the National Woodland Owners Association, Wisconsin Association for Environmental Education, and Xi Sigma Pi, the National Forestry Honor Society.
"I really appreciate this honor," said Kaltenberg. "I appreciate the fact that I have had a wonderful career here at this college, working with wonderful people. I enjoy working with the students and I appreciate all your cooperation and support in our continued success."
The CAFES Promotion and Awards Committee keeps the award confidential until the awards banquet presentation. "Mike was truly surprised by this, but certainly deserving," said Gallenberg.
-30-
Last updated: Thursday, 22-Apr-2010 16:09:01 Central Daylight Time