UW-RF Home > University Communications Home > This Month's News Releases
University Communications
For more information contact mark.a.kinders@uwrf.edu or brenda.k.bredahl@uwrf.edu.
CAFES Annual Awards Banquet Honors Students, Faculty
By Jonathan Drankwalter
UWRF University Communications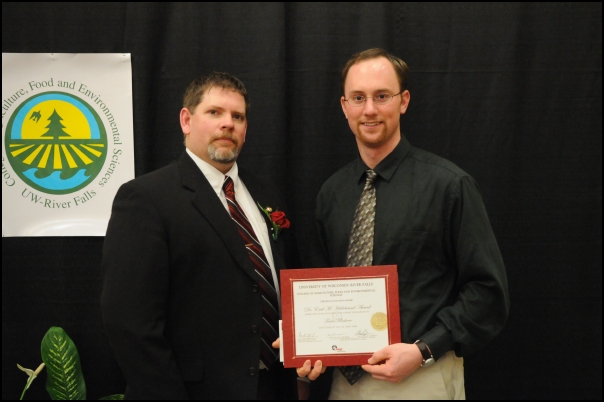 MAY 2, 2008--The University of Wisconsin-River Falls College of Agriculture, Food and Environmental Sciences (CAFES) held its 42nd annual Awards Banquet on April 24.
Faculty, students, parents and friends gathered in the Riverview Ballroom at the University Center to celebrate a night of awards and accomplishments earned throughout the year. The theme for the evening was "Reaping the Rewards."
During the event, a total of 132 scholarships were awarded to 124 different student recipients, totaling $107,850.
James Graham, associate professor and chair of the agricultural education department (above, left), presented the Dr. Earl Hildebrand Memorial Award, honoring an outstanding senior, to Travis Klinkner (above, right) from Cashton.
Klinkner graduated in December with a B.S. in agricultural education. He was one of only 14 agricultural education majors nationwide selected to receive the National Association of Agriculture Educators Upper Division Scholarship.
In 2006, Klinkner was a student representative to the Provost Search Committee, was on the ATA/Ag Education Society Quiz Bowl Team that took second place at the nationals, and served as resident of the Agricultural Education Society. He is currently an agricultural education teacher at Sparta (Wis.) High School,
Brigitte Crawford from Litchfield, Mich., was awarded the Rochelle Junkman Seymour Award for top senior academic honors. The recognition goes to the graduating senior with the highest grade point average within the college.
Crawford graduated in December with a B.S. in horticulture. She is currently completing a production internship with C. Raker & Sons, Inc. in Litchfield.
CAFES Dean Dale Gallenberg presented plant and earth science Professor Mike Kaltenberg with the 2008 Outstanding Faculty Teaching Award, the highest honor that CAFES bestows on its faculty members. In addition to recognition by CAFES, the recipient also receives a teaching award of merit certificate from the North American Colleges and Teachers of Agriculture as this year's designee as CAFES's outstanding teacher and faculty member.
Gregg Hadley presented the 2008 Wisconsin Distinguished Agriculturalist Award to Shaun DuVall. This prestigious award is given to an individual in the agricultural field who has demonstrated outstanding leadership and service to the agricultural community.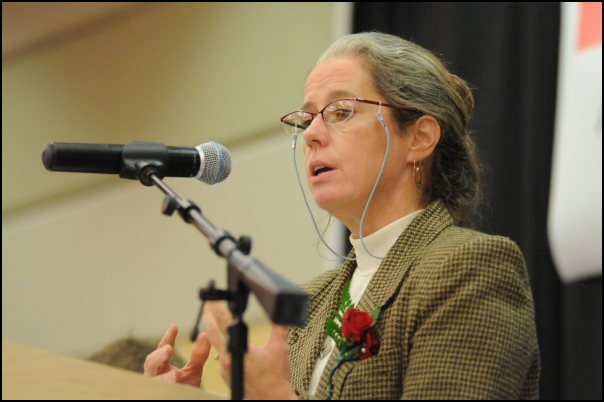 DuVall (left) is a recognized authority in agricultural workplace diversity and cultural understanding. Through the Puentes/Bridges Program, she organizes Spanish language and cultural understanding trips to Mexico for Wisconsin and Minnesota farmers, Wisconsin healthcare professionals, UW Extension professionals, and students at UW-River Falls and UW-Eau Claire. The program also arranges for noted Mexican authorities on Mexican culture, rural sociology and rural economy issues to speak to U.S. employers, universities, and other organizations.
UWRF honors program graduates were also recognized at the event. These recipients included: Alicia Braker, a biotechnology major from Randolph, Wis.; Amanda Carriveau, an animal science major from Hartland, Wis.; Marika Cates, an animal science major from Amery, Wis.; Rebecca Cote, a biotechnology major from Rhinelander, Wis.; Danielle DeCesaro, an animal science major from Pleasant Prairie, Wis.; Jessica Pries, a horticulture major from Eyota, Minn.; David Tollefson, an environmental science major from Waseca, Minn.; and Klinkner.
-30-
Last updated: Thursday, 22-Apr-2010 16:09:01 Central Daylight Time