UW-RF Home > University Communications Home > This Month's News Releases
University Communications
For more information contact mark.a.kinders@uwrf.edu or brenda.k.bredahl@uwrf.edu.
Tuchtenhagen Re-Elected to ACT Post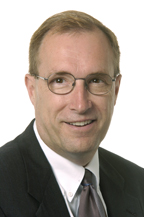 MAY 2, 2008--Alan Tuchtenhagen, associate vice chancellor for enrollment services at the University of Wisconsin-River Falls, has been re-elected to a second three-year term as Wisconsin's representative to ACT.
Known for the ACT college entrance exam, ACT is a nonprofit organization offering educational and workplace measurement and research services.
As an ACT representative, Tuchtenhagen also serves on the executive committee of the Wisconsin ACT state organization. In this role, Tuchtenhagen represents the interests of Wisconsin educators to the ACT national organization and regional staff.
ACT state organizations are comprised of secondary and postsecondary educators, agency personnel, and leaders of statewide associations. Each school district and postsecondary institution in the state is eligible for membership. ACT state organizations provide advice to ACT and support for exemplary uses of ACT programs and services
-30-
Last updated: Thursday, 22-Apr-2010 16:09:01 Central Daylight Time