UW-RF Home > University Communications Home > This Month's News Releases
University Communications
For more information contact mark.a.kinders@uwrf.edu or brenda.k.bredahl@uwrf.edu.
UWRF Students Receive 2008 Chancellor's Award
By Laurel Kolkind
UWRF University Communications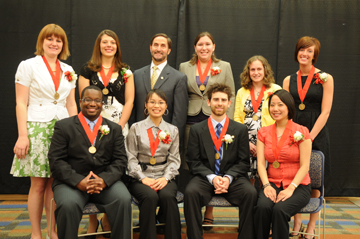 MAY 2, 2008--Nine University of Wisconsin-River Falls students received the 2008 Chancellor's Award on May 1.
The highest nonacademic honor that a student can receive at UWRF, the award is bestowed upon students who have demonstrated remarkable leadership and service to the University during their undergraduate careers.
This year's recipients include Anthony Anderson, Stephen Baisden, Elizabeth Barnett, Catherine Bollig, Natalie Hagberg, Tanya Hartwig, Chunlan (Lana) Li, Shelby Rubbelke and Hli Vang.
Chancellor Don Betz believes the recipients represent UWRF throughout the community. "Collectively, they represent the UW-River Falls spirit of learning so that they can be those productive, creative, ethical and engaged citizens and leaders we speak of in the university's mission.
"The award recipients are individuals who, each in their own unique way, model the engaged leadership goal we embrace here at UWRF," said Betz. "The community should be proud of their accomplishments and confident that they and other UWRF students work to serve our communities by fully developing their talents."
Student recipients receive their nominations from a faculty or academic staff member or student peers through the Student Senate. A committee that reports directly to the chancellor considers every nominee. After select interviews, the committee submits their recommendations to the chancellor, who makes the final decisions.
Anthony Anderson, a senior from Milwaukee who is majoring in speech communication, was nominated by Mark Johnson, disability services coordinator in the UWRF Academic Success Center. He was nominated on behalf of his strong leadership role on campus, work with disability services, and community service.
Anderson served as the president for the Black Student Union for two years, beginning in 2005. He is currently the basketball team manager and the assistance pre-college coordinator. Anderson previously tutored at Westside Elementary School and worked as the manager for Text on Tape, a program that records textbooks for students with disabilities. He also served as a staff trainer and quality control office with disability services for one year, ending in the fall of 2007.
Carolyn Brady, UWRF multicultural outreach specialist, applauds Anderson's friendly personality and willingness to help everyone he meets. "Always ready to lend a hand, and willing to seek--and graciously accept--assistance and guidance, Anthony endears himself to everyone that he meets. We at the University of Wisconsin-River Falls have been the lucky beneficiaries of the high degree of loyalty and commitment Anthony has demonstrated on our behalf since he joined our community."
Stephen Baisden , a senior from St. Paul who is majoring in geography, was nominated by UWRF geography professor Donald Petzold, on behalf of his academic merit, work with the First-Year Experience program and his school spirit.
Baisden is a member of Gamma Theta Upsilon (International Geography Honor Society), a member of the College of Arts and Sciences Dean's Council, president of the Student Geography Organization in which he has been a member since 2007, and has been on the Dean's List. He will also have a future publication of three maps on 10th to 14th century Bulgaria to appear in a book by Kiril Petkov, associate professor of history at UWRF. Baisden also acts as a "Super Fan" encouraging his peers at UWRF hockey games.
Sarah Egerstrom, director of the First-Year Experience, has seen many examples of Baisden's commitment and genuine interest on campus. "I have witnessed first-hand his ability to make a connection with a new student or family member by engaging them in conversation, listening to their concerns, answering questions and sharing his experiences."
Elizabeth Barnett, a senior from Mounds View, Minn., and who is majoring in business administration and economics, was nominated by economics professor Glenn Potts. She is nominated for her campus leadership, involvement in residence life and volunteerism. Barnett is currently the hall manager for Johnson Hall and a previous resident assistant for Grimm Hall. She is also a former desk assistant and Weeks of Welcome leader. She is presently a member of the College of Business and Economics Advisory Board, a National Residence Hall Honorary and participated in the River Falls Destination Trip to Cumberland, Tenn.
Nominator Potts praised Barnett's commitment to the university. "Her list of contributions on campus activities is long and impressive," said Potts. "Beth is talented, resourceful, and understands the importance of giving back to the community."
Catherine Bollig, a senior from Big Lake, Minn., is a double major in business administration with an emphasis in management and professional and organizational communication. Kristie Feist, area coordinator for UWRF Residence Life, nominated Bollig on behalf of her community service, campus involvement and leadership.
Bollig has participated in numerous community service projects, including Habitat for Humanity, American Red Cross, Smiles 4 Kids, and Relay for Life. She was a relief worker in Mississippi, helping hurricane Katrina victims in 2006. She is presently on the Student Organizations Committee, Leadership Development and Service Committee, a National Residence Hall Honorary and an intramurals team member and manager. Bollig has also previously received the UWRF Excellence in Diversity and Leadership Award and the UWRF Advisor of the Month.
Jennifer Willis-Rivera, an assistant professor for department of communication studies and theatre arts, believes the campus has benefited greatly from Bollig's presence. "She is behind the scenes, working with all the students in our residence halls," Willis-Rivera said. "My family and I go to many events on campus, and Catherine always seems to be there!"
Natalie Hagberg , a senior from Eagan, Minn., who is majoring in history education, was nominated by Thomas Weiss, director of purchasing services at UWRF and Newman Center chaplain. She was nominated on behalf of her involvement in Newman Club, campus leadership roles and community involvement.
Hagberg is currently a member of the Newman Club, where she has also previously served as president, vice president and secretary. She is also currently a member of the Student Organizations Committee where she also previously served as secretary and committee chair. Hagberg also serves on the Differential Tuition Committee and the Student Wisconsin Educators Association. She has also observed students and tutored at various schools throughout the area.
Michael Martin, an academic advisor for the UWRF College of Education and Professional Studies, commented on Hagberg's willingness to help others. "Natalie has demonstrated a life-long commitment to teaching and helping others, that I am sure will continue long past her education at River Falls."
Tanya Hartwig is a senior from Champlin, Minn., majoring in elementary education, who was nominated by fellow student Jeff Parker. She was nominated on behalf of her involvement with residence life, campus leadership and community service.
Hartwig has been a hall manager both in Grimm and Parker Hall, a resident assistant and a desk assistant. Along with her leadership in the residence halls, she also serves as National Residence Hall Honorary Member and as a member of the Student Entertainments and Arts Committee. Hartwig is also a radio disc jockey for WRFW and works as the event manager and an assistant graphic artist for UWRF student life area. Hartwig previously served as a Weeks of Welcome orientation leader and has been on two service missions in Missouri and Mississippi.
"She has always inspired those around her because of the leadership skills that she possesses, the dedication that drives her, and the warmth that is in her heart," said Parker. "The impact that she has made in her career at UWRF is immeasurable."
Chunlan (Lana) Li is a senior from Guilin, China, majoring in accounting. She was nominated by Brent Greene, director of UWRF Global Connections, on behalf of her academic merit, campus leadership and community service.
As an accounting major, Li previously tutored students on accounting principles in the Academic Success Center and had an accounting internship with Valleyfair in Shakopee, Minn. She has also served as a resident assistant and was previously co-chair of the Diversity Issues Committee for Student Senate. Li has also volunteered for both the International Bazaar and Tax Night, in which students prepare tax returns for low-income individuals in the community.
"She has been a very involved leader through her role with the international students, as a student senator, as a resident assistant, as an academic tutor and through many other events and activities on and off campus," said Greene. "She is also personable and engages with people and organizations with great ease."
Shelby Rubbelke is a senior from Oakdale, Minn., majoring in communication studies, who was nominated by Sarah Egerstrom, director of First-Year Experience. She was nominated for her campus leadership and work with First-Year Experience.
Rubbelke is currently a student manager for First-Year Experience, where she works with new students and develops campus training retreats among other tasks. She is also on the First-Year Experience Advisory Board. She has previously been involved as a summer registration facilitator for the admissions office and has been a resident assistance. She received the Resident Assistant of the Year award in 2007 and First-Year Student of the Year award in 2005.
Willis-Rivera also commended Rubbelke on her achievements. "Shelby is the embodiment of so much of what we want our students to be--bright, determined, self-motivated and energetic," said Wills-Rivera. "She is a positive influence on everyone she interacts with, and given her involvement with FYE, that means her influence will be felt for years to come."
Hli Vang is a senior from Wausau majoring in business administration. She was nominated by Brady for her work with the admissions office, involvement in residence life and work with the First-Year Experience program.
Vang is presently a resident assistance and has an internship with the admissions office. She has previously been a student ambassador for First-Year Experience and has also been on their summer registration staff. In this program she helped students with registration and informed incoming about student life through helping to create new activities. Vang has also been active with UWRF's Community Actions Theater Troupe and the Asian American Student Association.
Nominator Brady believes that Vang has helped the community greatly through her years at the university. "Genuinely committed to the health and wellbeing of he communities that she is part of, Hli has always placed the needs of other before her own. Her intense desire to learn everything...and why people do what they do, has helped Hli to excel in her own undergraduate experiences while achieving personal and professional growth," said Brady.
-30-
Last updated: Thursday, 22-Apr-2010 16:09:01 Central Daylight Time