UW-RF Home > University Communications Home > This Month's News Releases
University Communications
For more information contact mark.a.kinders@uwrf.edu or brenda.k.bredahl@uwrf.edu.
UWRF Faculty Authors Make a Splash in Literary World
By Annaka Isenberger
UWRF University Communications
APRIL 25, 2008--Sitting in a classroom or listening to a lecture, students often think about an upcoming test, an assignment due, or plans for the weekend. What they don't realize is that in many cases at UW-River Falls, the professor that they are listening to is a published author.
Greta Gaard (right), a professor in the English department, is one of the most recent faculty members to have a book published. "The Nature of Home: Taking Root in a Place" was published in November 2007 through the University of Arizona Press.
"Gaard's essays transcend mere description of natural beauty to investigate the interplay between place and identity," says the Book News article about the publication. Gaard says writing a book is no easy task. " Had I known this book would be a 10-year process, I don't think I would have had the stamina to undertake it! I finished the book in 2002, and spent the next five years revising," she says. "Each year, the book got better. And at some point, you have to let go so the book can be published."
Within the English Department, other faculty members have showcased their creative writing as well. Jennifer Brantley (below, left), a professor of English and an editor of The Literary Magazine Review, has had many pieces in an array of publications.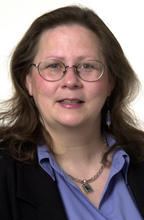 "Publication is all about persistence and hard work," she says. "Talent may play a small part, but hard work and good dose of luck are much more important."
In addition to two poems, "Barrel Rider" and "Walking on Water," recently published in ARS Interpres, an international journal published in Moscow, Stockholm, and New York City, Brantley has another poem, "Now and Now Again," in SEEMS Magazine. Along with her poetry, she has one short story, "Flint Hills Ghost with a Sad, Pale Heart" that was featured in TWISTER magazine in February 2008.
Brantley is currently looking for a publisher for a finished, mixed-genre manuscript, "Lake Superior's Moods and Latitudes: A Woman's Search for Water," a piece written during her sabbatical spent in the wilds of Canada, northern Wisconsin and Minnesota, and Michigan's Upper Peninsula.
English Professor Steve Luebke, also has published a short story. "Smoke and Mirrors" was featured in the "Tribute to Orpheus," an anthology through Kearney Street Books, April 2007. " It's always an honor to learn that some editor believes others would enjoy or benefit from something I have written," says Luebke. "When it comes to creative writing, publication feels like a sort of validation for something I felt it was necessary to do in the first place."
Essays, poems and stories do not occupy the entirety of publications from UWRF faculty. Two faculty, Pat Hanson of the Communication Studies and Theatre Arts Department, and Nan Jordahl, assitant to the provost anad director of the honors program, have self-published memoirs in recent years. In June 2007, Jackie Brux, a professor in the economics department, enjoyed publication of the 4th edition of her textbook, "Economic Issues and Policy," a textbook used in the general education course such as introductory economics. It is used across the country in similar courses.
"My students like the fact that I'm the author of this text," says Brux. "It certainly enhances my credibility in the classroom, as students seem to be more impressed by the written word than the spoken word."
Neil Kraus of the political science department has written a textbook, "The Continuing Significance of Race: African American and Hispanic Mayors, 1967 - 2003," published by Palgrave Macmillan in 2006. The book is design for classes in African American Pollitics or Race and Politics and is suited for upp division and graduate courses.
Roark Atkinson, an assitant professor of history, currently has a book manuscript under contract with the prominent Johns Hopkins University Press. Atkinson's manuscript, "Invisible Plantations: Religious Violence, Occult Healing, and Witchcraft in the Scottish Atlantic World, 1590-1820," examines the interconnectedness of the popular healing practices, religious beliefs, and popular justice that flourished in the 18 th century Atlantic world and demonstrates how they shaped the American South. The book is a part of the "Early America: History, Context, Culture" series and is due to be published in late 2008.
Professor Nicholas Karolides of the English department has also had a successful career in publication, including 15 books over 42 years, including one textbook, "Techniques of Middle/Secondary Education: English," that is being used in the Education 432 course at UWRF. Two reference books, "The Encyclopedia of Censorship," published in May 2005 by Facts on File, and "120 Banned Books" from the June 2005 publication from Checkmark Books, are Karolides' latest additions.
Bob Baker, Kerry Keen, Michael Middleton, Ian Williams and William Cordua, faculty in plant and earth science department in the College of Agriculture, Food and Environmental Sciences, created a field guidebook, "Paleozoic Stratigraphy to Quaternary Features of the River Falls Area with a Special Trip to the Rock Elm Impact Structure" for the 68th Annial Tri-State Geological Field Donference held last year at UWRF.
Retired faculty are engaged in the publishing world as well; some even writing about being retired. Richard Beckham, a retired UWRF English professor, has written an essay, "Geriatra," for the book, "Retiring Minds: Life After Work," collected and edited by Susan Thurin (Infinity Publishing, 2008). And Jerry Halvorson, retired professor of communicative disorders, has published several books ranging from memoirs growing in the heartland to a book "Now Stutter My Orphan" about a controversal research project that invoked stuttering in an orphan population. Retired journalism professor Michael Norman has written numerous books on haunted phenomena in the United States, and his popular "Haunted Wisconsin," has reached its second decade in print.
All works by UWRF faculty and staff can be found in the UWRF Bookstore in the University Center on campus.
# # #
-30-
Last updated: Thursday, 22-Apr-2010 16:09:00 Central Daylight Time