UW-RF Home > University Communications Home > This Month's News Releases
University Communications
For more information contact mark.a.kinders@uwrf.edu or brenda.k.bredahl@uwrf.edu.
Farm Day Is a Success
By Jonathan Drankwalter
UWRF University Communications
APRIL 25, 2008---More than 500 local elementary students learned about the agriculture industry, participated in agricultural art projects, and enjoyed a petting zoo on April 18 at the University of Wisconsin-River Falls' annual Farm Day.
Farm Day is an event that educates kindergarten through third grade elementary students on different aspects of agriculture. Alpha Zeta, an honorary agricultural fraternity, hosted the event at the new Dairy Learning Center at the university's Mann Valley Lab Farm 2.
The UWRF College of Agriculture, Food, and Environmental Sciences organizations participated at the event by setting up and staffing educational booths at the farm. This year the Agriculture Education Society, Rodeo Club, Dairy Club, and Poultry Club all played a part in the success of this year's Farm Day.
The children were able to rotate to different educational booths and activities every 15 minutes to maximize their learning experience. Topics this year at the farm ranged from rodeo events, agriculture jeopardy, egg candling and dairy story time. The day began at 9 a.m. and concluded at 2 p.m.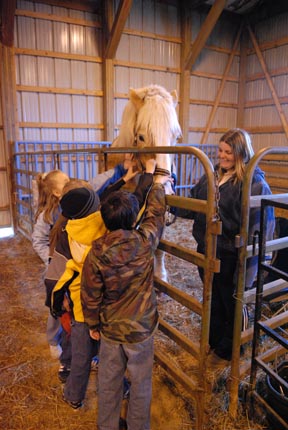 "This is a great experience for the children because many of them have never been on a farm before and this gives them a chance to see the animals up close and learn about them," said Katie Kramer, the head chair of Farm Day and a junior agricultural business major from Black Creek.
Farm Day began in the early 1990s by the UWRF Dairy Club and was initially called Dairy Jubilee. The original events were held on the main campus near the old student center. Dairy Jubilee focused primarily on the dairy industry and topics related to dairy. Over the years the educational event grew in size and began to offer more educational categories from the entire agricultural field. A few years back, Alpha Zeta took on sponsorship of the annual event and became the primary organizer of what is now observed as Farm Day.
Cutline: (Above, right): Amanda Keenlyne , a junior horticulture major from Elmwood, Wis., shares tips on taking care of perennials.
-30-
Last updated: Thursday, 22-Apr-2010 16:09:00 Central Daylight Time