UW-RF Home > University Communications Home > This Month's News Releases
University Communications
For more information contact mark.a.kinders@uwrf.edu or brenda.k.bredahl@uwrf.edu.
College of Business and Economics Hosts Awards Ceremony
APRIL 25, 2008--The University of Wisconsin-River Falls College of Business and Economics named 2007-08 award recipients at its annual awards reception April 21.
The Rochelle Junkman Seymour Award was given to Hans Hage, a business administration major with emphasis in management and information systems from Hudson. The Gilbert N. Smith Award was given to Barry Eggert, a business administration major with an emphasis in economics from Shawano. The awards are given to the highest GPA in the college and the highest GPA in economics, respectively.
In addition to recognizing CBE students who received the Chancellor's Award for Excellence and Honors Program graduates, the college recognized and inducted members into Beta Gamma Sigma at the reception. Beta Gamma Sigma is a business management and administration honor society for business programs accredited by the Association to Advance Collegiate Schools of Business International. Membership in Beta Gamma Sigma is the highest recognition a business student anywhere in the world can receive.
New this year was the recognition of students in the ROTC Program at UWRF with Cadet Excellence Awards in Military Science Leadership. The college also awarded numerous scholarships and recognized students who received or will receive senior merit awards at the fall 2007 and spring 2008 graduation ceremonies. Students were welcomed into the UWRF CBE Alumni Association by alumnus Bob Casey, business manager at WESTconsin Credit Union in River Falls.
Photo: From L to R: UWRF Chancellor Don Betz, UWRF Dean of the College of Business and Economics Barbara Nemecek, and UWRF Honors Program Director Nan Jordahl. In addition, all graduates seeking their master's degree in the college gave presentations. Selected awards and recipients included: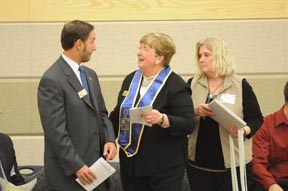 Chancellor's Award
Elizabeth M. Barnett - St. Paul, business administration
Catherine M. Bollig - Big Lake , Minn ., business administration
Chunlan Li - Gullin , Guangxi , accounting
Hli Vang - Wausau , business administration
Honors Program Graduates
Charles E. Bardel - Woodbury , Minn ., computer science and information systems
Tyler D. Christianson - Hastings , Minn ., business administration
Anthony D. Ludwig - Inver Grove Heights , Minn. , computer science and information systems
Marie A. Spencer - Lakeland , Minn., business administration
Beta Gamma Sigma Inductees
Amy K. Beale - Afton , Minn., business administration
Monica S. Brathol - River Falls , business administration
Ryan J. Brennan - Blaine , Minn. , business administration
Joshua M. Breyer - Waconia , Minn. , economics
Teresa A. Campeau - New Richmond , business administration
Aaron B. Cernohous - Hudson , accounting
Allysa R. Ellefson - River Falls , business administration
Laura M. Gustafson - River Falls , business administration
Jenna M. Heinbuch - Hammond , accounting
Nickolas D. Henricksen - New Richmond , accounting
Benjamin W. Hoeffler - New Richmond , business administration
Rachel R. Holthaus - Bowlus , Minn., business administration
Brent W. Hopkins - Elmwood , computer science and information systems
Angie L. Ideker - Caledonia , Minn., business administration
Joseph R. Maslow - Forest Lake , Minn., business administration
Ashton M. McCoy - St. Paul Park , Minn., business administration
David C. Minch - Ripon , business administration
Katie L. Regenscheid - Hastings , Minn., business administration
Tessa M. Rohl - Buffalo , Minn., economics
Jessica L. Schartner - Drummond , business administration
Kalen M. Schwartz - Dresser , business administration
Jon D. Szatkowski - River Falls , business administration
Krista J. Weiler - River Falls , business administration
ROTC Cadet Excellence Awards in Military Science Leadership
John H. Carrol - River Falls , business administration
Daniel Grove - River Falls , computer science and information systems
Jeffery Olson - Farmington , Minn., business administration
-30-
Last updated: Thursday, 22-Apr-2010 16:09:00 Central Daylight Time