UW-RF Home > University Communications Home > This Month's News Releases
University Communications
For more information contact mark.a.kinders@uwrf.edu or brenda.k.bredahl@uwrf.edu.
Distinguished Teacher Named at UWRF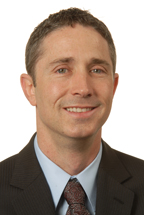 APRIL 25, 2008--Psychology Associate Professor Travis Tubré has been named the 2008 University of Wisconsin-River Falls Distinguished Teacher.
Chancellor Don Betz announced the selection Friday. As recipients of the highest award that can be presented at UWRF, distinguished teachers are nominated by graduating seniors and recent graduates.
"I'm delighted that Travis Tubré has been selected as the 2008 Distinguished Teacher," Betz said. "Travis's devotion to his students and to his discipline are well known not only across the campus, but across the nation. He exhibits all of the qualities that we look for in an outstanding teacher and mentor."
Students and alumni who nominated him wrote: "He is a favorite of many. His lectures are extremely interesting and informative. He teaches information that is useful and related to everyday life instead of facts we will forget in a couple weeks."
Another wrote: "Dr. Tubré is well liked by all and connects with his students on a personal level. He is a fine example of professor who cares about his teaching but finds a way to balance this with research and advising. In the classroom, he is able to keep any students' attention with real life examples that relate to them."
A recent graduate noted: "Throughout my four years at this institution I've been honored to study and work with many incredible people. Guiding students to higher levels of learning is something that Travis does successfully in the classroom on a daily basis by being extremely informed and organized, all while presenting information on a level that students identify with and gravitate towards. An example of how he selflessly guides students is expressed by the amount of time he spends coordinating research grants and opportunities for students to present at national conferences, as well as scenarios when he has personally arranged for students to experience graduate level course work at top regional programs."
Tubré teaches numerous courses in such areas as general psychology, industrial/organizational psychology, employee selection and training, psychological testing, and research methods.
He is also an active consultant and researcher, contributing numerous conference presentations, scholarly journal articles, and book chapters on such topics as employee testing, simulation and team-based training, and the measurement of job performance. His research efforts have received awards from several universities and professional associations, and he has conducted invited addresses at such prestigious venues as the Massachusetts Institute of Technology and the Science Museum of Minnesota.
Tubré has also been an active contributor to UWRF, serving on search committees, assisting with strategic planning in the College of Arts and Sciences, chairing the CAS Curriculum Committee, and serving as the Faculty Senate liaison to the Academic Staff Council.
Tubré also serves as co-adviser to the student chapter of the Society for Human Resource Management and advises the Psychology Society and the Men's and Women's Lacrosse Clubs. In 2006, Tubré was named the outstanding mentor for the UWRF McNair Scholars Program. He has also received an Excellence in Advising Award and an Excellence in Scholarship Award from the College of Arts and Sciences.
On learning of the award, Tubré noted, " I am quite surprised and extremely thankful for being named the 2008 Distinguished Teacher. The award reflects the incredible support I have received from my immediate and extended family, outstanding department colleagues, and UWRF administration. More than anything, I feel moved to be recognized by current and former students who provide the environment that makes each of my workdays a wonderful experience.
"I consider myself very lucky to have a job where people feel like I make a difference in their lives. As someone who studies the psychology of work, I am fully aware that waking up each morning excited about the prospect of going to work is a rare experience. Hopefully, my students know that they make this possible for me and that I will continue striving to provide them with the best educational experience I can deliver."
Tubré joined the faculty in June 2001 from the University of Southern Mississippi. He holds a bachelor's degree in psychology from University of Southwestern Louisiana and a master's degree and doctorate in industrial and organizational psychology from Texas A&M University.
-30-
Last updated: Thursday, 22-Apr-2010 16:08:59 Central Daylight Time