UW-RF Home > University Communications Home > This Month's News Releases
University Communications
For more information contact mark.a.kinders@uwrf.edu or brenda.k.bredahl@uwrf.edu.
Student-Directors Present One-Act Plays in May
By Rachel Hafele
UWRF University Communications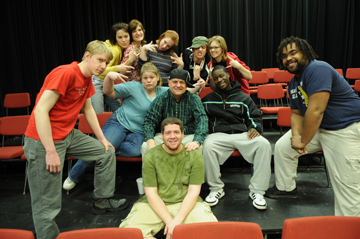 APRIL 25, 2008--Students in the Directing I class at the University of Wisconsin-River Falls will showcase their semesters' work of directing and producing one-act plays through a special festival, "Two Knights of One Axe," at 7 p.m. May 7-8 in the Blanche Davis Theatre in the Kleinpell Fine Arts Building on campus. Performances are free and open to the public.
The class is a part of the required curriculum in the theatre arts major on campus, and has historically been taught by Meg Swanson, a professor in the theatre arts department, who started the one-acts festival when she first began teaching the class in 1981.
"I have taught Directing I to eight students since my second semester on campus, but the course was offered before that," recalls Swanson, who is on sabbatical working on an international humanitarian project in Afghanistan.
The festival then turned into a public-wide audition to speed the process along. Later, Masquers, UWRF's student-run drama organization, joined as a sponsor, providing some funding for production costs and staffing including such positions such as stage manager.
This year, Professor James Zimmerman took over the director's chair in the class of budding directors. Students learn how to choose a show, research for the show, choose a cast, schedule rehearsals, conduct the rehearsals, and finally present the play for an audience.
"Theater is a collective art form," Zimmerman says. "By that I mean that it is an art form that takes multiple artists to accomplish: actors, designers, playwrights, scenic artists, painters, costumers, lighting and sound engineers; the list goes on and on. The single unifying element that makes all the difference in whether the product of this collaboration evolves into art, craft, or crap is the artistic director."
The 10 directors this year, says Zimmerman, are a very strong group. Many of the students have backgrounds in other areas of theater. Some come with acting credentials, others have done design/construction work in scenery, lighting, costumes, etc., and they all understand the collaborative nature of theater.
"It is a great experience," says student-director Mark Bergen. "I have learned many new things about directing styles and also about working with peers. I am glad that this class is offered on campus because it gives students the tools they need to succeed in the technical aspect of theater."
The one-acts officially began on March 27 with the audition process. More than 30 students arrived to show off their talent of acting and left hoping they would make it into a show. Every student received a role.
For the past several weeks, the student-directors have been working with their casts in scheduled rehearsals, readying themselves for the big day. Both directors and actors have worked hard to make their shows a success.
"I think the directing class is beneficial to actors because it allows you to see how much other work is put into a show," says Angel Brelie, another student-director. "It would also be a good class for people who aren't theater folk because it teaches you to be responsible, to work with others, and be a good 'boss.'"
Presented on May 7 are: "Family 2.0," directed by Bergen, "Awkward Silence," directed by Billie Carmen, "The Reunion," directed by Karwee Marshall, "The New Donco State of the Art, Made in the U.S.A., Naturally Powered, Environmentally and Economically Friendly, Glow in the Dark Turtle Shaver," directed by Brelie, and "Arabian Nights," directed by Kathleen Cleary.
Presented on May 8 are: "Suki Desu Sudoku," directed by David Frank, "The Actor's Nightmare," directed by Maggie Myre, "Bloody Mary," directed by Marc Berg, "Red Carnations," directed by Marco Fields, and "Desire, Desire, Desire," directed by Rachel Hafele.
Zimmerman said he is extremely proud of his class. "They have tackled the challenges without flinching and are solving the problems one by one," he said. "Being directors for at least this one experience, they will never approach another area of theatre again the same."
For more information contact the UWRF communications studies and theatre arts department at 715-425-3971. No advanced tickets are required for the free performances.
Photo, above: Student-directors in the UWRF Directing I class taught by Professor James Zimmerman, include, front row, L to R: David Frank, Mark Bergen, and Marco Fields; middle row, L to R: Angel Brelie, James Zimmerman, and Karwee Marshall; back row, L to R: Maggie Myre, Rachel Hafele, Kathleen Cleary, Marc Berg and Billie Carmen:
Marc Berg, a sophomore marketing communications major from Rosemount, Minn.
Mark Bergen, a junior theatre arts major from Shakopee, Minn.
Angel Brelie, a junior music major from Mora, Minn.
Billie Carmen, a junior theatre arts major from Grand Meadows, Minn.
Kathleen Cleary, a senior theatre arts major from River Falls.
Marco Fields, a sophomore theatre arts major from River Falls.
David Frank, a junior mathematics major from Deer Park.
Rachel Hafele, a sophomore theatre arts major from Forest Lake, Minn.
Karwee Marshall, a senior theatre arts major from Brooklyn Park, Minn.
Maggie Myre, a sophomore pre-professional major from Scandia, Minn.
-30-
Last updated: Thursday, 22-Apr-2010 16:08:59 Central Daylight Time