UW-RF Home > University Communications Home > This Month's News Releases
University Communications
For more information contact mark.a.kinders@uwrf.edu or brenda.k.bredahl@uwrf.edu.
Institutional Investment Fund Expert to Receive Honorary Doctorate from Alma Mater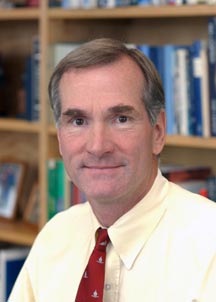 APRIL 21, 2008--An internationally renowned institutional fund investment expert who has managed one of the most successful higher education endowments in the nation is the recipient of an honorary doctorate at the University of Wisconsin-River Falls.
David Swensen, a 1975 economics graduate of UWRF, and the chief investment officer of the Yale Endowment, will be recognized with an Honorary Doctorate of Humane Letters at Spring Commencement on May 17.
Chancellor Don Betz cited Swensen's extraordinary success in building the Yale Endowment, and sharing his expertise with other educational institutions and his knowledge with students.
"Dr. Swensen is one of UW-River Falls's greatest success stories," Betz said. "Under his leadership, the Yale Endowment has grown from $1.3 billion to more than $22.5 billion and has reaped returns on investments that have outpaced all other Ivy League institutions.
"His dedication to using his exceptional skills to advance the education of students and to address the pressing issues of our day, all for the benefit of society, are a living testimony to the values that we seek to reinforce in our students: a commitment to integrity, personal discipline and continuous improvement."
In 1996, Swensen was named a Distinguished Alumnus of UWRF and hails from a family with exceptional ties to the University. His father, Richard Swensen, is a former dean of the UWRF College of Arts and Sciences; five of his siblings are graduates; and his brother, Stephen, and his uncle, Glen Hartman, also have been recognized as a Distinguished Alumnus.
"He is a member of one of UWRF's extraordinary families," said Betz. "They are amazing people with a rich tapestry of relationships and contributions to our University and our community. In our honoring of Dr. Swensen, we are recognizing the ethos of his family that instilled the values that have contributed to his success."
In learning of the award, Swensen said he was honored to be recognized by his alma mater.
"I am humbled by the extraordinary honor conferred on me by the University of Wisconsin at River Falls," Swensen said. "The education that I received from the University's extraordinary faculty provided a strong foundation for my post-graduate studies and contributed immeasurably to my lifelong love of learning. I owe UWRF a great deal.
"My family has been part of the UWRF community for as long as I can remember; my siblings and I received our elementary education at the Campus School and we all graduated from UWRF. My father served the University as an extraordinary teacher and an able administrator for many years; my mother contributed to the quality of life for students and faculty alike with her active involvement in the University. The powerful example of how my parents lived their lives influenced me profoundly. They deserve a great deal of credit for the honor I am to receive.
"UWRF embodies the educational ideals that I have worked to advance throughout my career. I am thrilled to be recognized by the University with an Honorary Doctorate of Humane Letters."
Swensen was nominated for the award by the Faculty Senate Honorary Doctorate Committee and approved by the University of Wisconsin System Board of Regents.
His investment strategies have been labeled as the "Yale Model," which places an emphasis on broad diversification and unconventional approaches to investment management. At Yale, the endowment return now is the largest income source to that institution.
The director of the Harvard University endowment has described Swensen, who has posted annual returns averaging more than 17 percent over the last decade, and as high as 41 percent in a single year, as "the best in the business." Fortune Magazine has reported him to be "an unassuming Midwesterner."
Chancellor-emeritus Gary Thibodeau, in joining in the nominators, noted he is described as "a man passionately working towards a noble mission--not a lavish lifestyle or the accumulation of creature comforts." Thibodeau cited a recent interview of Swensen by the New York Times in which the UWRF alumnus offered, "I feel privileged to be in a place where the resources we generate are applied to the world's problems."
Economics Professor Glenn Potts, who is the director of graduate programs for the College of Business and Economics, said Swensen's unparalleled success at charitable investments could make UWRF "be very proud that he started here."
Swensen has shared his investment expertise with institutional fund managers through frequent lectures and in his best-selling investment strategy book, "Pioneering Portfolio Management: an Unconventional Approach to Institutional Advancement." He shared his strategies for individual investors through "Unconventional Success: A Fundamental Approach to Personal Investment."
He began his professional career at the International Monetary Fund, before joining Salomon Brothers as an investment banker, and then directed swap activities at Lehman Brothers as a senior vice president.
Swensen has shared his investment expertise with numerous organizations. He has served as a trustee or an investment adviser for Brookings Institution, Teachers Insurance and Annuity Association of America, Wesleyan University, the Carnegie Institution, the Courtauld Institute of Art, the Investment Fund for Foundations, and the University of Cambridge. He also has been an adviser to the New York Stock Exchange, the Commonwealth of Massachusetts and the State of Connecticut.
At Yale he teaches one of the most popular classes at the institution under the auspices of its Department of Economics.
Betz concluded, "Dr. Swensen has made a self-less commitment to higher education and to excellence in his professional life. His accomplishments are a reflection of UWRF's vision and values. We are pleased to recognize him with this award, and we are honored that he credits our University with starting him on the pathway that has led to his exceptional contributions to society."
-30-
Last updated: Thursday, 22-Apr-2010 16:08:58 Central Daylight Time