UW-RF Home > University Communications Home > This Month's News Releases
University Communications
For more information contact mark.a.kinders@uwrf.edu or brenda.k.bredahl@uwrf.edu.
Multi-Media Exhibit Blends Art, Human Body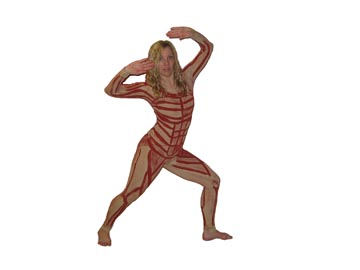 APRIL 14, 2008--An exhibit exploring the science of the human body systems through an artistic lens will be presented April 18-19 from 7 to 9 p.m. at the Karges Center on the UW-River Falls campus.
Free and open to the public, the exhibit "Body Systems in Motion" is an interdisciplinary collaborative project that brings vivacity through living, moving expressions of the systems of the human body. A culmination of live music and original compositions, art pieces including sculpture, painting, and other media, film, dance, and spoken word will reveal a sensory event. The evening offers an exhilarating blend of art and science.
Traveling through the Karges Center, viewers will observe the functions of the respiratory, circulatory, digestive, muscular, skeletal, and nervous systems. This melding of scientific concepts and artistic expression creates a truly unique and distinctively individual experience for audience members of all ages and backgrounds.
Mari Kline, artistic director of the event and an instructor at UWRF who lives in River Falls, worked closely with many student-artists across campus to create a cohesive exhibition. UWRF academic staff member Torrion Amie of Burnsville, Minn. has created an original musical composition that will be accompanied by movement performed by students Rana Kuebker, a sophomore majoring in marketing communication from Hammond, and Paul Fannin, junior chemistry major from Hortonville. Presenting a multi-faceted artistic installation is art major Noah Kurth, a senior fine arts major from Hastings, Minn.
Visual artist and UW-River Falls alumna, Crystal Fernandez, from Beldenville, has created an interesting work that will be surrounded by nine student dancers expressing the respiratory system.
Sara Mickens, an art major and dance minor from Mendota Heights, Minn., will be presenting multiple art pieces and dancing a solo work choreographed by Kline. Several student vocal artists have worked to create original scores for much of the exhibition.
For more information contact Kline at 715-425-3521.
-30-
Last updated: Thursday, 22-Apr-2010 16:08:58 Central Daylight Time