UW-RF Home > University Communications Home > This Month's News Releases
University Communications
For more information contact mark.a.kinders@uwrf.edu or brenda.k.bredahl@uwrf.edu.
Theatre Highlights 'Look Back In Anger'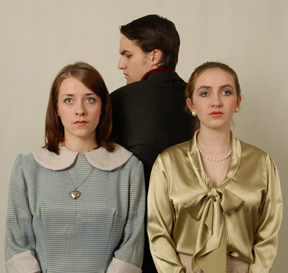 APRIL 14, 2008--The University of Wisconsin-River Falls theatre department presents "Look Back In Anger," a play by John Osborne, running April 24-26 and May 1-3. All performances are at 7:30 p.m. in the Sanford Syse Theatre of Kleinpell Fine Arts Building. "Look Back in Anger," tells the story of young Jimmy Porter and his mistreatment of his wife and friends. A twist in plot leaves the audience wondering what will happen in the end. (L to R)L Kelsey Anderson of Esko, Minn. as Alison Porter, Marc Berg of Rosemount, Minn. as Jimmy Porter and Maddie Webber of Edgerton as Helena Charles. Tickets are $7 for adults and $4 for students. For more information contact the university box office at 715-425-3114 or 800-228-5423 or visit www.uwrf.edu/scta. Box office is open weekdays Monday-Friday from 10 a.m. - 3 p.m. and one hour prior to each performance.
-30-
Last updated: Thursday, 22-Apr-2010 16:08:57 Central Daylight Time