UW-RF Home > University Communications Home > This Month's News Releases
University Communications
For more information contact mark.a.kinders@uwrf.edu or brenda.k.bredahl@uwrf.edu.
Entrepreneurs Abound as the St. Croix Valley Grows
By Robert J. Hughes
UWRF University Communications
APRIL 14, 2008--While economic conditions have created challenges for many businesses and citizens, a journalist from the Fortune Small Business magazine recently interviewed Steven Dewald, director of the Small Business Development Center and instructor of accounting and finance at the University of Wisconsin-River Falls, about the healthy economic growth of the St. Croix Valley.
Dewald told the reporter that the most attractive features for new business in the area are the diverse and educated workforce that UWRF brings to the region and the support networks offered to entrepreneurs in the area.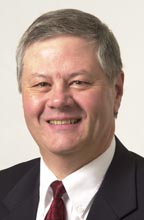 "They [the magazine] were very interested in the arts and diversity, and my comment to them was anytime you have a university [in a region] you have a diverse group of people," said DeWald.
The UW-River Falls College of Business and Economics is taking an active role in creating the next generation in business professionals through its programs and by hosting its third annual Young Entrepreneurs' Conference in April 18-19.
The conference is a place for UW System students to present their business plans in competition with peers for recognition and rewards, says DeWald, who is helping to organize the conference. The focus of the conference is to network with each other and business professionals and to inform participants with the knowledge they need to create and maintain successful businesses.
Although initiatives like the Young Entrepreneurs' Conference are fairly new on campus, many graduates from UWRF have successfully started their own businesses with majors ranging from chemistry and food science to education.
Cooking up plans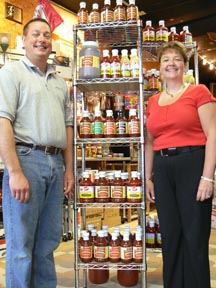 Scott Marson, an education major with a minor in business administration from UWRF, did not wait to get out of high school before starting a business--a professional cleaning service. He continued this spirit of entrepreneurship throughout college by starting an office supply store and collaborated in starting a hair salon.
Then Marson met Dawn Olien, a UWRF business administration graduate who also had an entrepreneurial spirit. She later became his wife.
Together they took Dawn's detailed business plan for a business called Sauces Etc. that she had created in UWRF faculty member Dave Bonko's small business management course in fall 1998 and "started digging" into the federal and state requirements for starting a business in the food industry.
"It took about a year to get official," said Scott. "The business plan really helped us stay on track and keep goals for the future in perspective."
Sauces Etc., originally a producer of BBQ sauces, then acquired the licenses of Scoops Delight salad dressings through a contact made at the College of Business and Economics and now maintains a storefront in Baldwin called Bar-B-Q UniverCity. There it offers their sauce and dressing products plus grilling equipment and supplies, as well as deli sandwiches, ice cream and other locally produced food and grilling products. They also have a catering business using their BBQ sauces, which have been national award winners.
Dawn said she is grateful to have had a "teacher with lots of real world experience" guide her through the process of creating a detailed business plan.
Scott says starting a business is a challenge. "Take it slow, don't think too big but dream big, keep it in perspective and don't over extend yourself."
Good impressions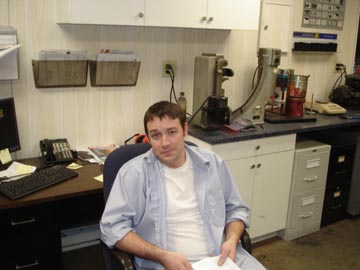 Fresh out of Hudson High School, Nate Reinke wanted to pay cash for college as he went. So he acquired a job as a grinder at Royal Finishing in River Falls and learned the ins-and-outs of the trade as he worked toward a degree in business with an emphasis on finance at UWRF.
Years later Reinke learned of the high profit margins in the grinding business while working as a salesman at a paint shop, and he envisioned one day operating his own grinding shop.
By making a good impression with his work at the paint shop, Reinke was recruited into a sales position at Pier Foundry by Matthew Grillz, the vice president. And by using tools he'd learned at the College of Business and Economics courses, Reinke and Grillz collaborated for eight months on a business plan for a grinding shop that would save Pier Foundry money and generate profits.
Armed with a detailed business plan and financial projections they took their idea to the president of Pier Foundry, who endorsed it by agreeing to send all of its grinding work to Reinke and Grillz's grinding company. Likewise a bank was also convinced into financial support and by putting up the existing equity in their houses they took the plunge into self-employment.
Thanks to "proper detail planning," says Reinke, in a little over two months the grinding business was turning a profit and now employs 11 full-time and three part-time employees. With a little more than a year in business they have already expanded into heat-treating and some light machining.
Day jobs to dream jobs
Michael Fassino operated a sole-proprietor construction business for 20 years until the housing industry boom created more paperwork than he could handle.
His wife, Connie Fassino, a UWRF double-major graduate in broadcast journalism and speech, left her day job to run the company full-time and helped file the paperwork for incorporation.
When the housing market started to slow down in 2006, Connie went to work at UWRF as the College of Business and Economics dean's assistant.
The Fassinos did not let their entrepreneurial spirit end there, however. It had been their dream to own a restaurant, so Connie created financial plans for starting an Irish pub, and Michael used his building contractor know-how to refurbish a spot in a retail center that on August 8, 2007, officially became Paddy Ryan's Irish Pub.
Connie finds time on the weekends to do the paperwork as needed and helps out at the pub. Since its opening Paddy Ryan's Irish Pub has had above industry average repeat business and garnered several good reviews from professional food critics.
Connie says she cannot directly attribute her degree that she earned more than 20 years ago to her success but she said it is critical "having that education helped build the people skills that are necessary to succeed in the business world."
The next generation
After graduating from the University of Minnesota with a journalism degree, Oakdale business owner Jerry Grohovsky decided to enter the technical writing field that offered much higher starting pay than other jobs in the journalism field or publication industries. Grohovsky worked as a staff technical writer until his company moved to California in 1985. He open a home office, and attracted top-notch clients such as 3M. With his wife Naomi, Grohovsky has built JPG & Associates into a technical publishing and creative staffing firm that crossed the million-dollar mark in 1999.
Today the Grohovsky's daughters, Lauren and Emily, both UWRF graduates, are employed by his staffing firm and hope to some day take over the reigns of the business. Lauren and Emily both say they chose to attend UWRF because of the available majors, low-cost tuition and proximity to their home in Stillwater.
With a degree in marketing communications, Lauren utilizes her skills to create marketing materials and public relations work for her parents' company as well as outside clients. Emily, who graduated with a degree in business administration, applies her skills to managerial tasks and human resources within the firm.
Playing around
Graduating with a business degree from UWRF in 1999, Joel Boblit headed out to Charleston, S.C., where he began working for himself through an online auction site called eBay.
Boblit started up his business with no more overhead than an Internet connection and a lot of hours spent buying collectible toys and parceling them off individually for enough money to pay the bills and reinvest in inventory.
After four months Boblit moved out to Flagstaff, Ariz., asked his brother, Dan, to build a Web site. Boblit began an online toy sale/resale business utilizing the garage as a warehouse, and later employed his mother and father into the business as well.
With dedicated drive Boblit and his family worked 100-plus hours a week growing the business and by early 2000 were fully incorporated into Big Bad Toy Store Inc., now located in Somerset. The hard work paid off, and sales grew 500 percent between the first and second years and 300 percent between third and fourth years.
By 2005 Joel's brother, Dan, built a new Web site that automated customer account and order processing through self-procured knowledge.
This change in operations dramatically cut Boblit's hours back to a more reasonable 50 hours per week, and sales still continue to grow. "Increasing sales and building the business is deeply satisfying," says Boblit.
Boblit notes that the support from his family was an instrumental part of his success.
Growing investments
Before graduating high school Daren Edwards started his own landscaping business that was very successful and profitable. Upon graduating high school Edwards entered the military to get away from a slumping economy and to try something different. While in the military he served in two overseas tours and began college studies in the medical field while in Europe.
Edwards graduated from UWRF in 1998 with a degree in business and economics. He worked for Cargill, one of the world's largest international companies, and oversaw a plant opening in Poland.
In other ventures, Edwards won national and state awards for small business such as the National Leadership Award from Congressional Small Business Advisory Council, Ronald Reagan Gold Medal for activities on the Small Business Advisory Council and, in 2005, was named Wisconsin Business Man of the Year.
Despite the success, Edwards still kept a goal of one day owning a vineyard and winery. A "for sale" sign finally went up on a piece of land he had thought would be a good place after keeping an eye on it for about 15 years. The property was listed as a flood plain but after watching the land Edwards knew that shouldn't be the case. Edwards purchased the land and hired an engineering firm who determined the land was mostly out of the flood plain.
By combining the native Indian grape with other varieties developed by the University of Minnesota, he's found mold-resistent and cold-hardy grapes suitable for wine production in Wisconsin.
In March 2008 Maiden Wines, LLC was granted its federal winery license. Edwards plans on producing specialty fruit wines this summer as his first planting is not expected to produce grapes until 2009.
Throughout all these business endeavors Edwards said he feels the knowledge he acquired at UWRF to be invaluable. "I gained insight into many areas that I apply daily in my business operations as well as my business explorations to determine the risks and rewards that come with each and every business adventure."
The sky's the limit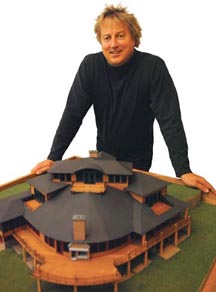 Mark Lacek started putting his degree in economics from the UWRF to work when a good friend's dad landed him an interview at Republic Airlines. Lacek was hired and worked as a strategic planner. Then Republic Airlines merged with Northwest Airlines, and Lacek worked his way through the ranks to become director of marketing where he created WorldPerks, a frequent flier program for NWA.
"It was a very exciting time in the airline industry," recalls Lacek. "They had just gotten over deregulation and it was the beginning of frequent flier programs. Our whole goal was to get a greater share of Northwest customer's business through a loyalty program."
Lacek took the customer loyalty idea a step further by creating his own consulting firm in 1993 called the Lacek Group, which became a success, and more work than one person could handle.
After building the firm up a few years Lacek sold Lacek Group and began a slew of new projects from developing a hotel complex to a charity organization that seeks to help families through difficult times.
Lacek's newest projects are Denali Marketing, a contemporary version of the loyalty idea that incorporates new technologies and more automation as well as BidPal, a support company for charitable organizations holding fundraising auctions.
In addition to the skills he learned at UWRF, experience at the large airline helped Lacek understand much about business relationships. "Northwest was an absolutely fantastic place to work, learn and hopefully contribute," recalls Lacek. "It introduced me to customer loyalty in a deep and broad way, and experience in the airline category at that time was seen as a real bonus."
-30-
Last updated: Thursday, 22-Apr-2010 16:08:56 Central Daylight Time