UW-RF Home > University Communications Home > This Month's News Releases
University Communications
For more information contact mark.a.kinders@uwrf.edu or brenda.k.bredahl@uwrf.edu.
Class Helps Nonprofits
By Laurel Kolkind
UWRF University Communications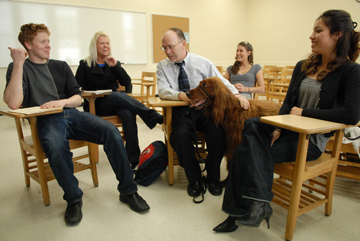 APRIL 7, 2008--A new special topics in marketing communications class at the University of Wisconsin-River Falls teaches nonprofit publicity skills by pairing students with nonprofit organizations in need of services.
This course allows students to research and design promotional strategies used by nonprofits, says lecturer Dave Bonko. Originally Bonko was going to design the curriculum to follow a format in which students would compose promotional plans for a "made up" nonprofit organization but a chance contact changed things.
"A former UWRF marketing communications student contacted class instructor Dave Bonko about the same time the semester kicked off," said Steve Olsen, professor of marketing communications at UWRF. "This former student was working with Lift Kids, a nonprofit that was in need of marketing and publicity help. Bonko met with the Lift Kids and was able to define three class projects."
Bonko said he was excited to have class projects that give students real-world experience. "Lift Kids is an amazing organization," says Bonko. "The group has provided our class with three intensely rewarding projects."
The opportunity to help others through technological advancements make using just case studies no longer a necessity, says Bonko, as communication with organizations worldwide is now possible.
Joseph Barrett, president and founder of Lift Kids, believes that opportunities to help others has expanded with technology as well. "More and more teachers want students to have hands-on experience," said Barrett.
The three projects for Lift Kids are called Global House, Operation Toe Hold and Eco-Tourism.
Students working with Global House help promote a north Minneapolis community center to other local nonprofit and community organizations. Global House is open 24 hours a day and serves diverse groups of people.
Operation Toe Hold is a fundraiser to raise money for food and clothing for children in Ethiopia and for schools and orphanages there. Students are publicizing Twin Cities' cyclist Kasey Knutsen and his Irish Setter Ryley's bicycle trip to raise money for Operation Toe Hold, in which he'll bike to all 30 major league baseball parks throughout the summer. Students help the Operation Toe Hold project by contacting stadiums and local media about Knutsen's arrival.
"It's as much symbolic as it is about money...it's an expression," says Knutsen about biking 11,000 miles in order to raise $1 million. "We want to engage people and allow them to use their imagination."
Students are as excited as Knutsen and Bonko about the project. "Being able to use the marketing knowledge I've gained to help children around the world is nothing short of a rewarding experience," said Katie Delk, a sophomore marketing communications major from Webster, Minn.
Sarah Marigomen, a sophomore marketing communications major from Milwaukee, is helping with Operation Toe Hold and said that the program offered her new insight into career planning. "Nonprofit marketing has really broadened the horizon in my future career," she said.
Eco-Tourism is an effort by Lift Kids in conjunction with 02 Sustainability Treehouses, a local tree-house manufacturer. It works to establish an ecotourism-based refuge in a virgin rain forest near the village of Aira in Ethiopia.
Bonko's class also is helping another organization, Heal Africa, whose mission is to provide holistic care for the people of the Democratic Republic of Congo, including training health professionals, strengthening social activists and providing physical, spiritual, and social healing.
One group of students in the class is seeking medical, technological and hardware donations. A second group is implementing a plan to start an airline miles donation program for Heal Africa.
Bonko believes the projects are a great benefit to his students. "We're looking to do some neat things this semester," said Bonko. "Students have commented that they find it rewarding to work on a project that will assist someone who really needs the help."
Cutline:
Students in Prof. Dave Bonko's marketing communications class discuss promotional efforts with representatives of Lift Kids, a nonprofit organization that has several projects to raise money for children around the world. L to R: Dustin Feider, a treehouse builder associated with the Lift Kids' Eco-Tourism project; Katie Delk, a sophomore marketing communications major from Webster, Minn.; Kasey Knutsen, who will embark on a 11,000 mile bike trip this summer with his dog Ryley to visit all 30 major league baseball parks to raise money for Lift Kids' Operation Toe Hold; Betsy Thraen, a senior marketing communications major from Farmington, Minn.; and Sarah Marigomen, a sophomore marketing communications major from Milwaukee.
-30-
Last updated: Thursday, 22-Apr-2010 16:08:55 Central Daylight Time