UW-RF Home > University Communications Home > This Month's News Releases
University Communications
For more information contact mark.a.kinders@uwrf.edu or brenda.k.bredahl@uwrf.edu.
Student Receives UW System Woman of Color Award
By Laurel Kolkind
UWRF University Communications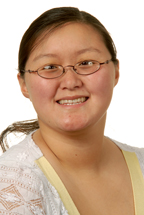 MARCH 28, 2008--UW-River Falls senior Megan Wisbar is the recipient of the University of Wisconsin System Woman of Color Award. The award honors UW students, faculty/staff or community members who have made outstanding contributions to their affiliate UW campus, and in particular, to diversity and women's issues.
The award is given by the UW System Office of Academic Diversity and Development. Wisbar, of Stillwater, Minn., is a senior majoring in Teaching English to Speakers of another Language (TESOL).
Wisbar is currently a McNair scholar, Technology Leadership Cadre member, Journey House resident, Student Support Services mentor, Asian American Student Association member, Community Action Theater Troupe member, Minnesota Literary Council member and a Student Support Services/Academic Success Center tutor. She has also participated in Sponsor a Family through Catholic Charities and Lutheran Social Services.
Wisbar said she was honored to win the award for the UWRF campus. "As a future English as a Second Language (ESL) college professor, my focus is on keeping the diversity alive in my classroom by incorporating my students' different cultural backgrounds," she said.
Wisbar centered her summer McNair research project on an analysis of the effectiveness of TOEFL test preparation sessions completed by Japanese students matriculating to UWRF. She also had the opportunity to evaluate their TOEFL curriculum and test scores, offering positive suggestions for curriculum development and improvements for the instruction of the students based on her research.
"She brings light, energy and commitment in promoting diversity and positively impacting women's status in education and life by encouraging and serving as a role model and mentor," said Linda Alvarez, multicultural services advisor at UWRF, in nominating Wisbar for the award. "Megan believes that by improving her life, she will in turn, have much to give to other women in assisting them in meeting their goals."
-30-
Last updated: Thursday, 22-Apr-2010 16:08:54 Central Daylight Time