UW-RF Home > University Communications Home > This Month's News Releases
University Communications
For more information contact mark.a.kinders@uwrf.edu or brenda.k.bredahl@uwrf.edu.
Students Present Research in Madison
By Laurel Kolkind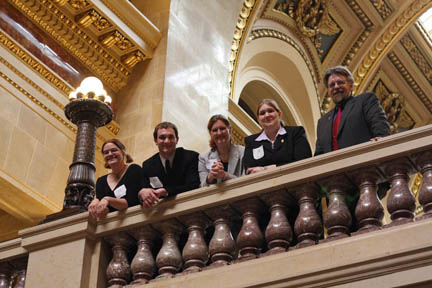 UWRF University Communications
MARCH 28, 2008--Four students and one alumnus from the UW-River Falls presented their research findings at the "Posters on the Rotunda: A Celebration of Undergraduate Research" event held on March 5 at the Wisconsin state capitol in Madison.
They joined more than 80 other students from UW institutions in sharing their undergraduate scholarly efforts with state legislators, UW administrators and other policy-makers.
One highlight was that Chancellor Don Betz attended and supported the undergraduate research event, said Amy Robak, a UWRF sophomore and president of the Society for Undergraduate Research, Scholarly and Creative Activities, a student organization fostering research and creative activities.
"It was fun to present our research to the legislature and also see other students work," said Robak, whose research focuses on crop nutrient management without the use of fertilizers. "I really enjoy talking to the public about agriculture, and this is a great way for me and other students to communicate our messages at a political level."
UWRF senior Amanda Liesch also attended with her research presentation on soil and organic matter. "It is always exciting to see people do their research presentations. It is awesome to see where people travel, and it is fantastic that we can see results of research all over the world that is being done by people my own age. Research means nothing unless it is shared."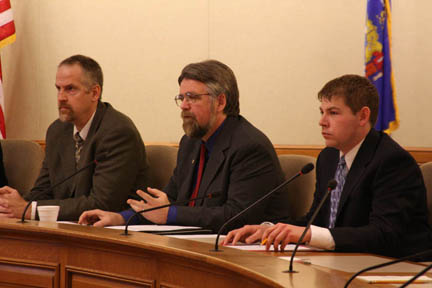 Listed are the participating UWRF students and their research projects:
Rebecca Cote, a senior biotechnology major from Rhinelander, Wis., presented "In Vitro Modeling of Early Embryonic Hematopoiesis."
Travis Cordie, an alumnus who majored in biotechnology from Woodbury, Minn., presented "Comparisons on Stage Specific Protein Expression Patterns Between Long-Term 3D Cultures and Native Samples of Chicken Embryonic Cardiac Tissues."
Amanda Liesch, a senior international studies major from Kaukauna, Wis., presented "Visual Soil Structure, Vane Shear Strength and Dry Aggregate Distribution in Three Different Organic Matter Treatments."
David Markle, a senior chemistry major from River Falls, Wis., presented "Effects of Plant Growth Regulators on Essential Oil Production in Mentha Spicata I. Shoots In Vitro."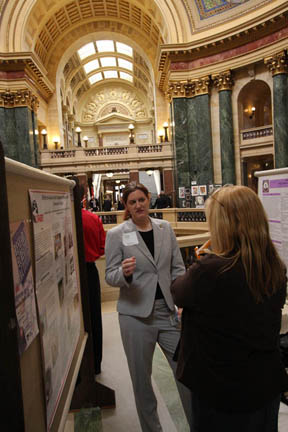 Amy Robak, a sophomore conservation major from Foley, Minn., presented "Efforts to Analyze Nutrient Management without the Use of Commercial Fertilizer."
Top, right: L to R: Pictured are four UW-River Falls students who presented their research at Poster on the Rotunda event on undergraduate research held at the state capitol in Madison: Amanda Liesch of Kaukauna , David Markle of River Falls , Amy Robak of Foley, Minn ., Rebecca Cote of Rhinelander , and UWRF biology Professor Tim Lyden of River Falls . Not pictured is UWRF alumnus Travis Cordie of Woodbury, Minn .
Center, left: UWRF biology Professor Tim Lyden speaks to a legislative symposium on the value of undergraduate research; UWRF alumnus Travis Cordie, of Woodbury, right, testified about the role of participating in research played in his undergraduate career at UWRF and how it helped him secure a biotechnology position at WiCell in Madison.
Lower right: UWRF student Amy Robak, of Foley, Minn., explains her poster on nutrient management without commercial fertilizer Poster on the Rotunda undergraduate research event held at the state capitol in Madison.
-30-
.
-30-
Last updated: Thursday, 22-Apr-2010 16:08:54 Central Daylight Time