UW-RF Home > University Communications Home > This Month's News Releases
University Communications
For more information contact mark.a.kinders@uwrf.edu or brenda.k.bredahl@uwrf.edu.
Kinders Re-Elected Chair of National Higher Ed Committee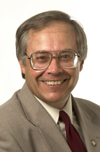 MARCH 28, 2008--UW-River Falls University Communications Director Mark Kinders has been elected to a second term as chair of a national higher education committee of the American Association of State Colleges and Universities.
Kinders, of Prescott, will serve a one-year term as chair of the AASCU Advisory Council for Communications and University Communications through March 2009. The council's purpose is to advise AASCU on its communications work with Congress, the administration and the public to promote broad public understanding of the essential role of public higher education in society and of the specific responsibilities and contributions of AASCU's institutions.
During Kinders' first term as the chair, the council conducted its first national conference for senior communications professionals at comprehensive universities like UWRF. It also initiated a benchmark national survey of professional responsibilities and practices for senior communicators at AASCU institutions.
The council includes chief University Communications officers from 14 institutions who are selected to represent regions of the country, as well as categories of higher education institutions.
AASCU's membership includes 430 public higher education colleges, universities and higher education systems nationwide, including the University of Wisconsin System and its 11 comprehensive universities, including UWRF.
The association's institutions, which are partially or completely state funded, enroll more than 3 million students, and represent 55 percent of all students attending public institutions nationwide.
AASCU monitors, analyzes and develops federal public policy in such areas as student financial aide, education, international programs, economic and work force development, teacher education, and undergraduate experiences.
Additionally, it coordinates the American Democracy Project, which is dedicated to encouraging students to become involved in civic leadership through sponsoring such projects as voter registration, public policy advocacy, The New York Times readings in the classroom, Constitution Week, and resources sustainability.
Headquartered in Washington, D.C., AASCU also provides leadership development opportunities for campus leaders.
Kinders has served as director of University Communications at UWRF since 1985, where he is responsible for state legislative, congressional, community and media relations.
He holds a bachelor's degree from the Medill School of Journalism at Northwestern University, a master's degree in history from UW-River Falls, and a master's degree in University Communications through the Executive Program at the Humphrey Institute of the University of Minnesota.
-30-
Last updated: Thursday, 22-Apr-2010 16:08:54 Central Daylight Time