UW-RF Home > University Communications Home > This Month's News Releases
University Communications
For more information contact mark.a.kinders@uwrf.edu or brenda.k.bredahl@uwrf.edu.
Journalism Student Wins WBA Award for Excellence
By Robert J. Hughes
UWRF University Communications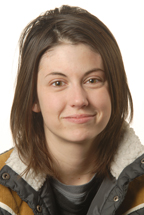 MARCH 21, 2008--UW-River Falls broadcast journalism major Rose Rongitsch received third place in TV news story excellence at the Wisconsin Broadcast Association's Student Seminar in February.
Rongitsch, a senior from St. Paul, was excited to win the statewide award for her news story profiling Al Murray, a telecommunication team leader at UWRF and Director of Engineering for the student-run radio station WRFW, an affiliate of Wisconsin Public Radio. She said she was even more satisfied that her hard work went toward appreciating the everyday service that Murray, who lives in River Falls, gives to the campus.
"I just wanted to do a story about Al, He has dedicated so much of his life to helping people," said Rongitsch. "It feels good to give back to the people who give so much to the university."
Rongitsch's award-winning segment is posted on YouTube and accessible by searching for "Murray Profile."
The number of entries for the student award broke a new record by more than 20 percent from the previous record, and the TV news story category had the most entries among 16 categories. In addition, this year's student seminar broke records for attendance and received outstanding reviews by the participants.
"The increase can be attributed to the hard work of the WBA Education Committee in putting together an outstanding program featuring the Kelly Kahl, the senior executive vice President of primetime from CBS inn Los Angeles," said WBA Education Chairperson Ken Beno.
The Wisconsin Broadcasters Association Foundation contribution to broadcasting in Wisconsin encompasses a strategic, long-term vision for enhancing, promoting and supporting the industry by encouraging the preservation of its history, participating in University Communications activities in Wisconsin and providing educational opportunities for professional broadcasters and those who seek future careers in the broadcast industry. In addition the group awards several scholarships each year to deserving students.
For more information contact the UWRF journalism department at 715-425-3169.
-30-
Last updated: Thursday, 22-Apr-2010 16:08:52 Central Daylight Time