UW-RF Home > University Communications Home > This Month's News Releases
University Communications
For more information contact mark.a.kinders@uwrf.edu.
Xcel Executive to Speak on Campus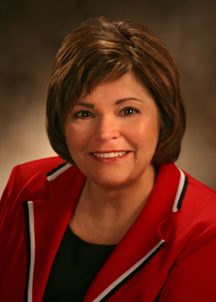 MARCH 7, 2008--Cynthia Lesher, an energy company executive and president of the host committee for the 2008 National Republican Convention, will speak at the University of Wisconsin-River Falls at 2 p.m. Tuesday, March 25 as part of the College of Business and Economics' Executive-in-Residence Program.
Lesher, who is president and CEO of Northern States Power-Minnesota, an Xcel Energy company, will present, "The Energy to Make Things Better: A Look at the Present and Future Energy Issues," in the Riverview Ballroom of the University Center. The presentation is free and open to the public.
Lesher has been vice president, chief administrative officer and chief human resources officer at Xcel Energy. Prior to the 2000 merger between New Century Energies and NSP Power that created Xcel Energy, she was president of NPS Gas.
In 2003 Lesher was inducted into the Women's Economic Roundtable, comprising the top 100 women leaders in Minnesota. In 2004 she was appointed chair of the Governor's Workforce Development Council by Minnesota Gov. Tim Pawlenty. She serves on the board of directors of Alliant Techsystems, the Minnesota Chamber of Commerce, Twin Cities Area Red Cross, and the Saint Paul Foundation.
Lesher earned a bachelor's degree in sociology from Drake University, a master's degree in rehabilitation counseling and psychology from St. Cloud State University, and completed the Master of Excellence Program at the University of Minnesota's Carlson School of Management.
The CBE Executive-in-Residence Program is sponsored by WESTconsin Credit Union. For more information on the program, contact CBE at 715-425-3335 or email cbe@uwrf.edu.
-30-
Last updated: Thursday, 22-Apr-2010 16:08:51 Central Daylight Time