UW-RF Home > University Communications Home > This Month's News Releases
University Communications
For more information contact mark.a.kinders@uwrf.edu or brenda.k.bredahl@uwrf.edu.
International Visitor on Campus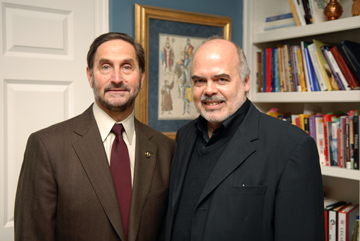 FEB. 29, 2008--Sigurd Hanson, the UWRF 2004 Distinguished Alumnus, was on campus Monday to explore new partnerships with the University and Abt Associates, Inc., where Hanson is head of its Pakistan Safe Drinking Water and Hygiene Promotion Project. Abt Associates is a U.S. Agency for International Development contractors.
"At one of our recent training workshops, I sat for tea break with a man who was the CEO of Green Circle Organization," said Hanson. "I mentioned my upcoming trip to see my mother in Wisconsin, and he talked enthusiastically about a workshop in dairy production he had attended in Wisconsin. I asked him where, and he said UW-River Falls."
Hanson says he hopes to explore connections between Abt, UWRF and GCO, a nonprofit, nongovernmental organization established in 1990 that works to introduce sustainable and organic farming techniques and promote socio-economic uplift of small and land-less farmers in Pakistan.
While on campus, Hanson (photo, right) visited with Chancellor Don Betz (photo, left), College of Agriculture, Food and Environmental Sciences Dean Dale Gallenberg and Associate Dean Nate Splett as well as Kelly Cain, director of the St. Croix Institute of Sustainable Community Development. He also met with Linda Alvarez, of the Academic Success Center, and Katie Oenga of the Global Connections Office. Oenga's husband Bryan and Alvarez have been speaking locally about Alvarez's relief efforts in Oenga's native Kenya.
An international humanitarian and the former country director of World Vision-Pakistan, Sigurd Hanson said he has been very interested in the recent work that the university is doing in sustainable community development and sustainable agriculture education and is interested in exploring technical assistance partnerships with the University and Abt Associates.
In Pakistan, some 630 children die each day from unsafe water conditions, Hanson said. Abt Associates is a consortium of agencies that conducts outreach to its schools and communities and technical training for organizations on the education of safe drinking water and hygiene practices.
In Wisconsin for his mother's 90th birthday celebration, Hanson, who lives in Pakistan with his wife, Yemi, last visited campus in 2005 when he gave an address about the need for international relief efforts after a devastating Pakistan earthquake that took 90,000 lives. He also gave the keynote address at the 2004 Distinguished Alumni Day, "Our World: Global Trends and Challenges."
-30-
Last updated: Thursday, 22-Apr-2010 16:08:50 Central Daylight Time