UW-RF Home > University Communications Home > This Month's News Releases
University Communications
For more information contact mark.a.kinders@uwrf.edu or brenda.k.bredahl@uwrf.edu.
Art Prof in Women's Caucus for Art Exhibit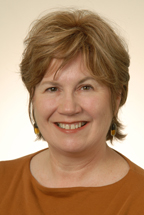 FEB. 15, 2008---Lynn Jermal, an art and art education professor at the University of Wisconsin-River Falls, will be among more than a dozen member artists exhibiting work at the Hamline University exhibit, "Breaking Barriers, Building Community: Celebrating 35 Years of the Women's Caucus For Art" in St. Paul.
The exhibit runs Feb. 18 through March 14 and commemorates the 35th Anniversary of the Women's Caucus for Art (WCA) and its commitment to advancing and honoring women in the arts.
An opening reception is set for Wednesday, Feb. 20 from 7 to 9:30 p.m. at the Giddens Learning Center Art Gallery, 1556 Hewitt Avenue, in St. Paul.
In conjunction with the exhibit, Jermal, from Hudson, will also give a keynote lecture, "Breaking Your Barriers: Insights on Creativity" during the Evening of Artist Talks, Performance and Lecture on Feb. 27 from 6 to 9 p.m. in the Giddens Learning Center Art Gallery and Auditorium (LC 100E).
In her presentation, set for 7 p.m., Jermal will explore creativity and the creative process, such as: How do we decide what is creative? What behaviors enhance or deter creativity? What kind of environment will encourage creative endeavors? What is required to have creative collaborations? Jermal will address the insights that research on creativity over the last 50 years has taught us about the nature of creativity: the process, the environment, the character of creative individuals, and the creative product.
The juried invitational exhibition will feature the work of 13 member artists, including Jermal, Lynnette Black, Betsy Dollar, Jacquelyn Mihalik, Bettye Olson, Gina Dabrowski, Liz Ofstead, Bonnie Ploger, Liz Dodson, Deb Krueger, Alis Olsen, Dawn Saks, and Jill Waterhouse.
All events are are free and open to the public. The exhibition is sponsored by the Minnesota Chapter of the WCA. The WCA also sponsored "A Place at the Table," a touring exhibition of culturally-specific artist-made chairs that has been shown at ARC Gallery in Chicago, Gallery 101 at the University of Wisconsin-River Falls, and at United Theological Seminary in New Brighton, Minn. Founded in 1972 in connection with the College Art Association, WCA is a national member organization unique in its multi-disciplinary, multicultural membership of artists, art historians, students, educators and museum professionals.
For more information about the exhibit. contact Jill Waterhouse at 612-339-6011.
-30-
Last updated: Thursday, 22-Apr-2010 16:08:49 Central Daylight Time