UW-RF Home > University Communications Home > This Month's News Releases
University Communications
For more information contact mark.a.kinders@uwrf.edu or brenda.k.bredahl@uwrf.edu.
CBE Staff Member Receives Advising Award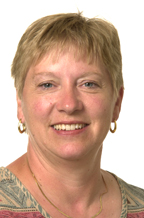 FEB. 15, 2008--The Wisconsin Academic Advising Association has given an Advising Excellence Award to Ellen Schultz, an academic advisor in the College of Business and Economics at the University of Wisconsin-River Falls.
Schultz started working at UWRF in the mid-1990s and began full-time advising in 1999. In addition to advising about 400 students, Schultz works closely with faculty and other collegiate advisors including Michael Martin of the College of Education and Professional Studies, who nominated Schultz for the WACADA award.
UWRF hosted the WACADA conference for the first time at the University Center last fall. Schultz was excited to be recognized. "I was very honored and moved that my colleague [Martin] felt I was deserving of the award," Schultz said. She will be using the stipend, given with the award, to attend a National Academic Advising Association conference in Chicago next fall.
WACADA recognizes individuals who work with, for, and in favor of students in an academic advising capacity, and those who have demonstrated outstanding dedication to the profession of academic advising.
-30-
Last updated: Thursday, 22-Apr-2010 16:08:48 Central Daylight Time