UW-RF Home > University Communications Home > This Month's News Releases
University Communications
For more information contact mark.a.kinders@uwrf.edu or brenda.k.bredahl@uwrf.edu.
Contingent from UWRF Attends Reading Conference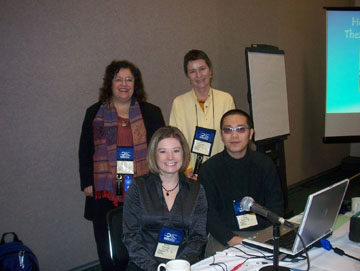 FEB. 15, 2008--University of Wisconsin-River Falls faculty and students attended the Wisconsin State Reading Conference, Crossroads of Literacy: Changes & Challenges , held Feb. 7-9 in Milwaukee.
Gay Ward, an associate professor of teacher education, coordinated an action research session featuring three graduate students from the UWRF teaching program. Ann Jauquet, a reading specialist at Somerset (Wis.) Elementary School, shared her exploration of the effects of guided sustained silent reading intervention on the comprehension and reading attitudes of struggling first grade readers. Kelly Ferriss, third grade teacher at John F. Kennedy Elementary School in Hastings, Minn., described the effect of readers' theater on the oral fluency of her students. Lou (Alan) Ling, instructor of Mandarin at UWRF, shared the results of his research using Pinyin, etymology and word-building skills to teach Mandarin vocabulary to American students. He is an exchange instructor and graduate student from Hangzhou University in China. Teresa Kruizenga, an assistant professor of teacher education at UWRF, presented "Winning Grammar: Hands-on Grammar Lessons for Real Classrooms." In addition, Ward and Marie Stadler of UW-Eau Claire, presented, "Supporting Language and Literacy Development with Story Retells in the Classroom," based on research conducted at two elementary classrooms in River Falls. They were assisted in data collection and analysis by senior elementary education students, Andrea Hanzlik of St. Paul and Carye Kringle of Barron.
Rachel Wilber, a senior teacher education student from Trempeleau, Rachel Wilber, received an award and conference scholarship. Wilber is currently student teaching in Milwaukee as part of a student teaching exchange program.
Front, left to right: Kelly Ferriss of John F. Kennedy Elementary School in Hastings, Minn.; Lou (Alan) Ling of UWRF; (back, left to right) Gay Ward of UWRF; and Ann Jauquet of Somerset Elementary School attended the Wisconsin State Reading Association Conference in Milwaukee.
-30-
Last updated: Thursday, 22-Apr-2010 16:08:48 Central Daylight Time