UW-RF Home > University Communications Home > This Month's News Releases
University Communications
For more information contact mark.a.kinders@uwrf.edu or brenda.k.bredahl@uwrf.edu.
Spring Wyman Series Returns With Excitement
FEB. 6, 2008--The University of Wisconsin-River Falls Wyman Series spring semester line-up features a well-known gospel choir, two acoustic guitar masters, world renowned Chinese acrobats, a theatre production blending African and urban dance, and the Unity in the Community festival.

On Wednesday, Feb. 27 at 8 p.m. the renowned Twin Cities Gospel Choir will perform in the North Hall Auditorium. The Twin Cities Community Gospel Choir gathers singers of various musical experience, ethnic backgrounds and ages to celebrate music and spirituality through the rich traditions of African American religious music. The choir's spirit and harmonies invariably bring audiences to their feet.

On Wednesday, March 5 at 8 p.m. acclaimed acoustic guitar masters Tim Sparks (right) and

Michael Young (left) will perform at the Falcon's Nest in the University Center. Tim Sparks taught himself to play the music he heard around him: traditional country blues and the gospel his grandmother played on the piano in a small church in the Blue Ridge Mountains. Michael Young, a fingerstyle guitarist, takes advantage of the guitar's possibilities by combining standard and alternate tunings with a mix of slide guitar. Together, or solo, their music will mesmerize.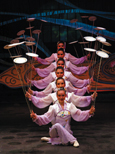 On Tuesday, April 1 at 8 p.m. the world renowned Golden Dragon Acrobats will perform at the Abbott Concert Hall in the Kleinpell Fine Arts building. The 25 acrobats, originally from Cangzhou, Hebei province, in the People's Republic of China, are athletes, actors and artists who have trained since childhood. They will amaze with acrobatic feats they perform using their bodies and simple props including plates, jugs, bicycles, umbrellas and more.
On Tuesday, April 22 at 8 p.m. the theatre production African Roads, American Streets will perform in the North Hall Auditorium. African Roads, American Streets will captivate the audience with a strong mix of theatre, street and cultural performers. Based on Director Edna Stevens Talton's journey from her home country of Liberia to her adopted home of New York City, this production blends African dance, and urban dance, along with heart-thumping drums and hip-hop, to create a unique and exciting show.
On Wednesday, April 23 the Unity in the Community festival will take place all day outside by the University Center. The festival is a celebration of diversity on campus and among neighbors and in our world. Past events have included hip-hop, Latin, Irish, Native-American and Japanese music and dance. A taste of ethnic food is provided at a campus-wide picnic, which is available for purchase for those without a University plan.
For more information about the Wyman Series, contact the University Center at 715-425-4444.
-30-
Last updated: Thursday, 22-Apr-2010 16:08:47 Central Daylight Time