UW-RF Home > University Communications Home > This Month's News Releases
University Communications
For more information contact mark.a.kinders@uwrf.edu or brenda.k.bredahl@uwrf.edu.
Visiting Professor Ed Lotterman to Speak on Economy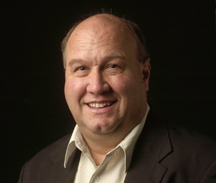 FEB. 6, 2008--The Federal Reserve's historic interest rate cuts in January have piqued public interest in the nation's economic drivers, and the University of Wisconsin-River Falls has invited Edward Lotterman, a former regional economist for the Federal Reserve Bank of Minneapolis and columnist, to campus as a visiting professor.
Lotterman, whose column "Real World Economics" appears in the St. Paul Pioneer Press and other newspapers, will present a free, public lecture, "The Federal Reserve in Transition: Greenspan to Bernanke" in the University Center's Kinnickinnic Theater on Feb. 21 from 3:30 to 4:30 p.m. A reception will follow in the UC Ames Gallery until 5:30 p.m.
Lotterman will also present a full day of classroom presentations in agricultural economics, international studies and economics. He will also attend a reception at the College of Agricultural, Food and Environmental Sciences reception from 9:30 to 10:30 a.m. on the first floor of the Agriculture Science Building in the teacher's lounge. The public is invited, and signs at main entrance will direct to the reception.
With a bachelor's of arts in Latin American studies and a master's in agricultural and applied economics, Lotterman has had first-hand world economic experience in such countries as Peru, Barbados, Bulgaria and the Czech Republic. In addition, he has worked on development projects funded by United States Agency of International Development (USAID).
Lotterman has taught or teaches at Dordt College, University of Minnesota, Macalester College, Hamline University, Metro State University, University of St. Thomas, Minneapolis, Lakewood and North Hennepin Community Colleges. He has written extensively for such publications as the Common Property Resource Digest, the Region, the Fedgazette, and the Pioneer Press.
His visit is sponsored by the University of Wisconsin-River Falls departments of economics and agricultural economics and the international studies program.
Visiting professors are invited to campus each year and are intended to engage students further by featuring renowned professors with expertise on current topics of interest. The UWRF Foundation, along with the sponsoring departments, provides grant funding the Visiting Professor Program.
-30-
Last updated: Thursday, 22-Apr-2010 16:08:47 Central Daylight Time