UW-RF Home > University Communications Home > This Month's News Releases
University Communications
For more information contact mark.a.kinders@uwrf.edu or brenda.k.bredahl@uwrf.edu.
Geography Student Receives National Scholarship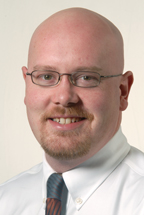 FEB. 1, 2008--A University of Wisconsin-River Falls student is the recipient of a $5,000 scholarship for the United States Geospatial Intelligence Foundation (USGIF) for one of its 2007 Scholarships.
The recipient is Justin March, a senior from River Falls who served five years in the U.S. Navy. After graduation, March, who is pursuing his bachelor's degree in geography, hopes to continue his service to the nation's defense in the geospatial intelligence tradecraft.
"Justin is a highly motivated and intellectually curious student," said Charlie Rader, chair of the geography and mapping sciences department at UWRF. "I think that this came through in his application."
This year, the foundation awarded $54,000 to 12 recipients: two Ph.D. candidates, four master's students, four undergraduates and two graduating high school seniors. High school winners received $2,000 scholarships, and the others received $5,000 scholarships.
"On behalf of the Foundation and its Board of Directors, I would like to congratulate this year's recipients of the USGIF Scholarship Program for their academic excellence and accomplishments within the tradecraft," said USGIF President and Chairman K. Stuart Shea. "USGIF is impressed with the interest and dedication this year's winners displayed in their academic contributions to our expanding field."
-30-
Last updated: Thursday, 22-Apr-2010 16:08:47 Central Daylight Time