UW-RF Home > University Communications Home > This Month's News Releases
University Communications
For more information contact mark.a.kinders@uwrf.edu or brenda.k.bredahl@uwrf.edu.
Guest Artist from Greece Visits UWRF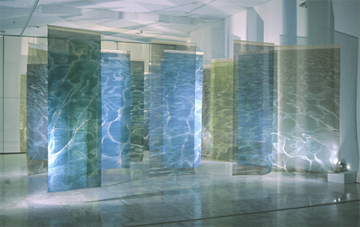 FEB. 1, 2008--An internationally known printmaker from the Athens School of Fine Arts will present two lectures and a printmaking workshop in conjunction with an exhibit that opens Feb. 14 in Gallery 101 at the University of Wisconsin-River Falls.
Mary Schina will present two free, public lectures: "Contemporary Greek Art" from 3 to 4:15 p.m. Feb. 13 in the Blanche Davis Theatre in the Kleinpell Fine Arts Building at UWRF and "Portrait of a Greek Printmaker" on Feb. 15 from 1:30 to 3 p.m. in Rom B107, Kleinpell Fine Arts. Her installation exhibit, titled "The Aegean Sea," opens runs until March 6 and the opening reception is from 3 to 6 p.m. Feb. 15 in Gallery 101.
Schina has presented her work in more than 20 solo exhibits in Greece, Cyprus, Indian, Germany, France and the United States and in more than 70 International Biennials. She has been a visiting scholar at New York University, and a visiting lecturer at Columbia College in Chicago through a Fulbright grant.
"The Aegean Sea" is a series of digital print on translucent silk. Based on her woodcut prints, this installation is inspired by the luminous color and play of light observed on the Aegean Sea. The silk panels, suspended from the gallery ceiling, will create a shimmering and radiant environment.
Schina's visit is sponsored by the UWRF art department and the UWRF visiting professor program. Gallery hours are 9 a.m. - 5 p.m. and 7 - 9 p.m. Monday through Friday and 2 - 4 p.m. on Sunday. Call 715-425-3266 for more information.
-30-
Last updated: Thursday, 22-Apr-2010 16:08:47 Central Daylight Time