UW-RF Home > University Communications Home > This Month's News Releases
University Communications
For more information contact mark.a.kinders@uwrf.edu or brenda.k.bredahl@uwrf.edu.
Professor Helps Create Geological Atlas
By Melissa Klein
UWRF University Communications
JAN. 11, 2008--University of Wisconsin-River Falls geology Professor William Cordua is working with the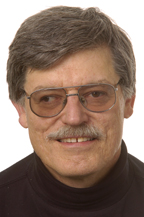 Wisconsin State Geological Society and the Natural History Survey to create a new geological atlas in Pierce and St. Croix counties that will serve as an information baseline in the area for years to come.
The atlas will include a detailed color map of the Rock Elm Disturbance in Pierce County's Nugget Lake County Park, which is an unusual outcroppings of rocks that Cordua has studied for 20 years.
In 1998, along with a fellow geologist from the Smithsonian Institution, Cordua verified that a meteor impacted the site millions of years ago.
"I was curious about this geological mystery," said Cordua.
In creating the atlas, Cordua had to integrate his current data with new and existing data. The map will show the circle of the impact from the meteorite and the different soil types. Cordua found from his research that the soil types that were higher up in the area of the impact are normally well below the surface. He concluded that there had to have been a great impact in order for these soil types to rise to the surface.
The atlas will include the geological maps along with descriptions and will serve as a resource for many people, including landowners, developers, farmers, scientists and others. These maps will also be used as a resource for geology students and industry and education professionals on campus and elsewhere.
"The product will be the geological baseline for decades as this area develops," said Cordua.
For example, contractors can use these maps to determine the best place to locate a development or farmers can use them in creating nutrient management plans, says Cordua. The atlas will include the cross sections and descriptions of the areas, and show where the bedrock is exposed in Pierce and St. Croix counties. The bedrock controls the slope and should be a part of the planning process if a development were to be constructed on top, Cordua says.
This project is funded through the U.S. Geological survey, and preliminary maps should be available for the public in 2008.
"The soil does not change much over time, so these maps can be used 500 years from now," says Cordua.

-30-
Last updated: Thursday, 22-Apr-2010 16:08:45 Central Daylight Time