UW-RF Home > University Communications Home > This Month's News Releases
University Communications
For more information contact mark.a.kinders@uwrf.edu or brenda.k.bredahl@uwrf.edu.
UWRF Alumna Receives Outstanding Service Award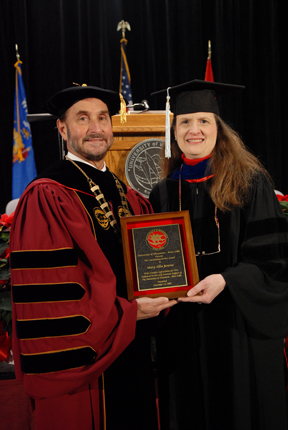 DEC. 23, 2007—The University of Wisconsin-River Falls has presented its 2007 Outstanding Service Award to alumna Mary Ella Jerome of Barron, whose appreciation for music and educational opportunities has led her to provide extraordinary financial support through scholarships and investments in piano assets.
The honor was conferred by Chancellor Don Betz during Fall Commencement ceremonies on Dec. 15, based on the recommendation of the Faculty Senate External Relations Committee.
Nominating Jerome were theater Professor Gorden Hedahl, who is the former Dean of the College of Arts and Sciences, and music Professors Sarah Parks and Lillian Tan.
The faculty members cited numerous examples of largesse and loyalty by Jerome to her alma mater.
In his nomination, Hedahl noted that in his 35 years as an educator he has found Jerome to be among the most supportive of arts education. "I can certainly attest to the importance of public support for our efforts, and as an administrator I can testify to the significance of Mary Ella Jerome's contributions to music education," Hedahl noted. "It is difficult to estimate what our program would be like without her attention." Hedahl added that many of Jerome's contributions to UWRF were made anonymously.
Parks wrote in support, "Mary Ella has dedicated so much of her time and resources in developing opportunities for enhancing musical experiences for so many. I can't think of a more deserving person to receive this award."
In announcing the award, Betz remarked: "Mary Ella Jerome has been an exceptional friend to UW-River Falls, and its faculty, staff and students. Through her donations to the music department, her generous support of our students, and her advocacy for our programs, she has set the bar high as a model for others. We are extremely pleased to have this opportunity to thank her in this very visible way for her continuing contributions to our success as a university."
Jerome has established funding for five scholarships each year in music, agriculture or education that are named for her parents, the late Wallace and Marion ('40) Jerome (founders of Jerome Foods), and her twin aunts, Lila Estenson Byng ('47) and Lola Estenson Yde ('48). She has additionally provided funding for talented UWRF student musicians to attend or perform at such summer programs as the Aspen Music Festival.
Jerome has underwritten the rebuilding and restoring of 12 Steinway pianos, including the Music Department's grand pianos that support all performing arts activities. She has collaborated with UWRF to ensure the appropriate storage facilities are provided, and her support has increased the value of the pianos more than four-fold.
She has also demonstrated continuing efforts to encourage promising young musicians to enroll at UWRF and provided performance venues for Music Department ensembles and faculty at the Barron Area Community Center.
In accepting the award, Jerome noted, " I was pleasantly surprised when Chancellor Betz informed me about this wonderful honor from UWRF. He also asked me if I would be available to receive the award at December's Commencement. I never imagined such an event would be possible for me.
"Since I am unable to develop others' gifts through my own teaching now, these are ways that I can contribute," said Jerome, who is retired from a long career including high school music teacher and choral director, university business instructor and corporate trainer and executive. "My parents taught their five children to say 'thank you,' so this is how I can express appreciation by contributing to something that I value. Being able to do it for the University of Wisconsin-River Falls is a joy."
Remarking on her long-standing commitment to the University , she said, was based on her experiences as a third-generation UWRF student in her family.
"I genuinely enjoyed my experience as a student at UWRF. The dedicated faculty and staff provided a unique opportunity for me to develop my talents. Within my family, we have sent members from three generations to UWRF to further their education. The importance of my family to me and my connection to this fine university inspired me to create five scholarships that are named for family members," she said. "I also desired to make a difference in the lives of qualified students, especially regarding the significant tuition burden which they and their parents typically bear."
During her sophomore year as a music major, Jerome recalled, the state invested in constructing the Kleinpell Fine Arts Building. The project included purchasing grand pianos for the facility. "These are important assets that must be cared for and maintained, so that current and future students may develop their musical gifts. The faculty of the UWRF Music Department also are very appreciative about having excellent instruments for their use. After 35 years, it was time for these fine instruments to be restored," she said.
She also recalled fond memories of how faculty employed the pianos for individual practices, paired practices with other students, and student and faculty recitals.
Jerome also cited her experiences with such faculty members as Lillian Tan, Carolyn Britton, John Radd and William Abbott. "An incomparable experience was the opportunity, given to a rare few, which was that of accompanying Elliot Wold, as he directed the UWRF Concert Choir. He is a truly dedicated, giving, and amazing musician and human being."
Jerome is currently the president of the Mary Ella Jerome Family Foundation. She holds a bachelor's degree of music education with piano and vocal emphases from UWRF and an M.B.A. from UW-Madison.
She has previously been recognized for her life-long support of UWRF, the federated music clubs, her church and community, and various school music activities with the Community Service Award of the Wisconsin Music Education Association.
Jerome joins a list of distinguished previous recipients including the Kansas City Chiefs Football Club, 3M, former Secretary Jim Harsdorf of the Wisconsin Department of Agriculture, Trade and Consumer Protection, and United Parcel Service.
-30-
Last updated: Thursday, 22-Apr-2010 16:08:44 Central Daylight Time