UW-RF Home > University Communications Home > This Month's News Releases
University Communications
For more information contact mark.a.kinders@uwrf.edu or brenda.k.bredahl@uwrf.edu.
Commencement Speakers Inspire Graduates, Honor Excellence In Service
By Lisa Stratton
UWRF University Communications
[photos] [video]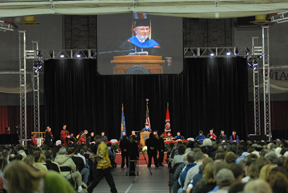 Dec. 17, 2007--Some 290 undergraduate and graduate students watched themselves march into the future on a larger-than-life projection screen on Dec. 15 at the University of Wisconsin-River Falls' commencement. The graduates and more than 3,000 family, friends and well-wishers packed the Robert P. Knowles Physical Education and Recreation Center to hear a potent message of a life lived in service to others.
Chancellor Don Betz welcomed all to the ceremony and reminded the graduates to take time to thank the special people in their lives whose efforts enabled them to complete their education.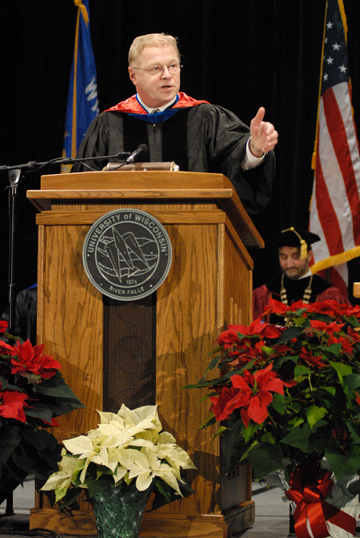 Rodney Nilsestuen, secretary of the Wisconsin Department of Agriculture, Trade and Consumer Protection and a 1970 graduate of UWRF, gave the commencement address. Nilsestuen began by offering congratulations on behalf of Gov. Jim Doyle.
"As I'm sure is obvious to every citizen in Wisconsin, the Governor's No. 1 priority from day one in office has been to strengthen Wisconsin's educational system," said Nilsestuen. "It is his core belief that the state's investment in its young people is not only the state's highest responsibility, but also its best opportunity for helping ensure that Wisconsin's future is bright."
Nilsestuen went on to describe his own experiences at UWRF. Nilsestuen is counted among the university's distinguished alumni, and has been a member of Governor Doyle's cabinet since 2003. Recently elected president of the new North Central Bio-Economy Consortium, he was president and chief executive officer of the Wisconsin Federation of Cooperatives for 24 years before being joining state government.
Nilsestuen gave the graduates a few words of varied wisdom from Albert Einstein, Mae West, Muhammad Ali and Mark Twain. He also cautioned them to take notice of rising global social and cultural problems and that their reactions and service to mankind will shape and create history.
"So your generation, like those that went before you, will face major, sometimes daunting, change and challenge," said Nilsestuen. "How you respond to these challenges will depend on your education, your awareness, your capacity to adapt, and your willingness to lead."
James Madsen, professor and chair of the physics department and the 2007 Distinguished Teacher, thanked all who nominated him for the honor, as well as his colleagues, students and family. Madsen offered some unique advice, as told to him by his father when he was growing up.
"What we lose on the merry-go-round, we make up on the Ferris wheel: which means, you don't have to win at everything, but you should make progress overall," said Madsen. "Many a blind man would be happy to see that: which means, you need to keep some perspective. At some point, you need to say good enough, and move on."
Madsen graduated from UW-Madison with a B.S. in applied math, engineering and physics, and his Ph.D. in applied physics from the Colorado School of Mines. Madsen has been heavily involved with the international IceCube project at the South Pole, offering students the opportunity to do research with him on neutrino astrophysics. He has been awarded several National Science Foundation grants to continue his research.
The Outstanding Service Award was presented to Mary Ella Jerome, a 1974 UWRF graduate, whose philanthropic efforts have allowed the music department to restore its Steinway pianos. Jerome's continued dedication and service to music led her to create five scholarships awarded annually to UWRF students in music, agriculture or education.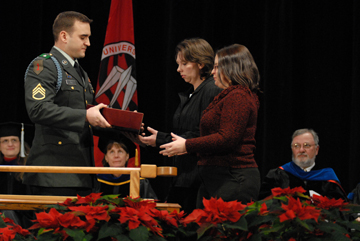 Commencement took on a somber note as Lieutenant Tracy Alger, a 2001 graduate of UWRF who was killed in action by an improvised explosive device in Iraq earlier this year, was honored for her military service. Alger was a 2nd Lieutenant with the 3rd Battalion, 187th Infantry Regiment, 3rd Brigade Combat team, 101st Airborne Division.
"Her convoy responsibilities did not require Lieutenant Alger to participate in dangerous escort assignments, but she did so because the soldiers who served under her command took priority over her own safety," said Betz. "By aspiring to live up to her value of leadership, Lieutenant Alger made the ultimate sacrifice."
An American flag flown in Alger's memory at the 2007 UWRF Veteran's Day ceremony was presented to two close friends she met in college, Carrie Hickman and Micki Larson Moos. Assisting in the presentation of the flag was Staff Sergeant David Till, president of the Veteran's Club and a member of the 1st Battalion of the 128th Infantry Regiment of the Wisconsin Army National Guard.
Congratulatory remarks were also given by David Rainville, a chemistry professor and chair of the Faculty Senate, and by Student Senate President Derek Brandt, of St. Paul, Minn.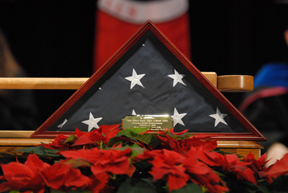 Degrees were conferred by Terry Brown, dean of the College of Arts and Sciences, Dale Gallenberg, dean of the College of Agriculture, Food and Environmental Sciences, Barbara Nemecek, dean of the College of Business and Economics, Faye Perkins, interim dean of the College of Education and Professional Studies, and Doug Johnson, director of graduate studies.
Accompanied by The River Falls Brass, Barbara Bright, a graduating senior and music major from Minneapolis, Minn., sang the "The Star Spangled Banner" and the "UW-River Falls Pledge Song" to begin and end the ceremony.
-30-
Photos, from top: (Right) Dale Gallenberg, dean of the College of Agriculture, Food and Environmental Science calls the candidates for degrees forward. Commencement was also streamed live online for the first time.
(Left) Secretary of the Wisconsin Department of Agriculture, Trade and Consumer Protection Rodney Nilsestuen delivers his commencement address, "An Armband, Grandma, and Mandela."
(Right) Staff Sergeant David Till presents Carrie Hickman and Micki Larson Moos with a flag in memory of their late friend, UWRF alumna Lieutenant Tracy Alger, who was killed in action in on Nov. 1, on her third tour of duty in Iraq.
(Left) Plaque Inscription on Flag:
In Memoriam
2nd Lt. Tracy Lynn Alger (UWRF 2001)
Presented at Fall Commencement, Dec. 15, 2007
Flown During UW-River Falls
Veterans Day Observance, November 12, 2007
-30-
Last updated: Thursday, 22-Apr-2010 16:08:43 Central Daylight Time