UW-RF Home > University Communications Home > This Month's News Releases
University Communications
For more information contact mark.a.kinders@uwrf.edu or brenda.k.bredahl@uwrf.edu.
Sustainability Is Topic of Dec. 13 Presentations
DEC. 10, 2007--The St. Croix Institute for Sustainable Community Development at the University of Wisconsin-River Falls is cosponsoring two events on sustainable community development Dec. 13, one via the Internet and one in Osceola, Wis.
Kelly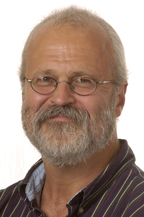 Cain (right), director of the SCISCD and a professor of environmental sciences at UWRF, is the featured speaker at both events. He will discuss a variety of topics related to sustainable community development.
The first is a webinar, or a live presentation via the Internet, in conjunction with the Midwest Buildings Technology Application Center (MBTAC) Dec. 13 from 1 to 2 p.m. Neil Howell, an engineering specialist for the Wisconsin Department of Administration, will also speak with Cain about Wisconsin's current energy initiatives and the efforts of energy independence at four UW campuses. Cain will also discuss the institute's activities on campus and in the region.
The second event is at 7 p.m. Dec. 13 at the Osceola High School large group instruction room. This free, public event will feature Cain discussing the concept of sustainability and the guiding principles in the book, "The Natural Step for Communities: How Cities and Towns Can Change to Sustainable Practices." The book provides many examples of communities that have made dramatic changes toward sustainability and how other municipalities can do so as well. Several copies of the book are available at the Osceola Public Library. Those interested in forming a study circle in their communities for future discussions centered on the book are encouraged to attend.
The webinar is free, but preregistration via the Internet is required and is limited to any interested participant from Iowa, Illinois, Indiana, Michigan, Minnesota, Missouri, Ohio, and Wisconsin. Visit http://www.ecw.org/mwbuildings/webinars.php (Case Study No. 3 Energy Independence Initiative at Four University of Wisconsin Campuses) for more information and to preregister. The webinar is cosponsored by the MBTAC, located at the University of Illinois at Chicago and the Energy Center of Wisconsin. MBTAC provides the Midwest states and their commercial building partners with the information, education and technical assistance necessary to continue and expand, in a coordinated manner, the deployment of the U.S. Department of Energy (DOE) Building Technology Program energy efficient technologies and practices. The National Association of State Energy Offices with the support of the DOE has sponsored the development and implementation of the MBTAC.
The mission of the SCISCD is to support and facilitate UWRF in becoming one of the premier venues for deliberation and demonstration of sustainable community development principles.
-30-
Last updated: Thursday, 22-Apr-2010 16:08:43 Central Daylight Time