UW-RF Home > University Communications Home > This Month's News Releases
University Communications
For more information contact mark.a.kinders@uwrf.edu or brenda.k.bredahl@uwrf.edu.
UWRF Commencement is Dec. 15
Ceremony is Streamed Live on the Internet for First Time
DEC. 7, 2007--The University of Wisconsin-River Falls will hold its fall commencement at 2 p.m. on Dec. 15 in the Robert P. Knowles Physical Education and Recreation Center, and for the first time in the University's history the ceremony will be streamed live via the Internet.
Some 291 bachelor's and master's degree recipients are expected to participate in the commencement ceremonies. A commencement concert by the River Falls Brass begins at 1:30 p.m. Commencement speakers include Wisconsin Secretary of Agriculture, Trade and Consumer Protection Rodney Nilsestuen (below, right) and James Madsen (below, left), the 2007 UWRF Distinguished Teacher.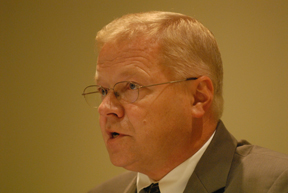 The ceremony can be viewed on the Internet at: http://www.uwrf.edu/commencement/ and click on "view this event live online." The event is also broadcast live on local cable channels 19 and 23.
"This is really going to benefit the families of international and outstate students who might not be able make it to River Falls, as well as other friends and families of the graduates who may not be able to attend because of weather or other circumstances," said Nick Dangeur, director of UWRF's TV Services. "Our commencement is now global. That is huge."
The ceremony also sports a new system of video projection as well as trusses and a lighting grid provided by the division of Student Affairs--all designed to give attendees better vantage points. Attendees will also see the complete processional due to a reorientation in the venue's seating arrangement, something administrators had hoped to accomplish to serve the increasing number of graduates and attendees over the years.
"A jumbo screen on the stage will let families see their graduates up close when they receive their diplomas," said Dangeur. "Plus we'll have monitors in the reception area for people who need to take a break, such as those with children or who need to stretch their legs. All of the people in the venue will be able to see a lot of different views. "
Secretary Nilsestuen will give the keynote commencement address titled, "An Armband, Grandma and Mandela."
Nilsestuen is a 1970 graduate of UWRF and a past recipient of the UWRF Distinguished Alumni Award. Governor Jim Doyle appointed Nilsestuen to his cabinet in January 2003. Previously, Nilsestuen served as a president and chief executive officer of the Wisconsin Federation of Cooperatives for 24 years, where he helped build the WFC into one of the most respected cooperative trade associations in the nation. Nilsestuen, who holds a law degree from UW-Madison, has also been recognized outside of the Wisconsin area. He was recently elected president of a new North Central Bio-Economy Consortium, a 12-state organization designed to help guide the region's transition to greater use of bio-based fuels and products. Nilsestuen also recently served as president of the Midwest Association of State Departments of Agriculture.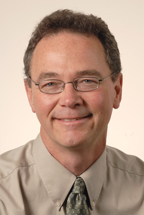 Professor and chair of the UWRF physics department, James Madsen, will also address the graduates as the 2007 UWRF Distinguished Teacher. His speech is "'What Were You Thinking?' and Other Life Lessons."
Madsen has held a number of positions prior to his arrival at UWRF in 1989. He was a postdoctoral research assistant in physics and polymer science at the University of Massachusetts-Amherst from 1987 to 1989, and an IBM graduate fellow with the physics department at the Colorado School of Mines from 1985 to 1986. Madsen has been involved with the international IceCube project, which involves neutrino astrophysics research at the South Pole. Several students have had the opportunity to work with Madsen on this project in Antarctica, and Madsen has given presentations on the research project around the globe. His research and work has been published in many scientific journals. In 1997, Madsen helped establish the Western Wisconsin Polymer Lab on campus.
Madsen holds a B.S. with a double major in applied math, engineering and physics from UW-Madison and a Ph.D. in applied physics from the Colorado School of Mines. He is also a member of the Wisconsin Association of Physics Teachers and the American Physical Society. Madsen has received several National Science Foundation grants for his research.
Receiving the Outstanding Service Award at the commencement ceremony is alumna Mary Ella Jerome, who graduated from UWRF with a B.S. in music education with emphases in vocal and piano music in 1974. Her appreciation for music and educational opportunities has led her to provide extraordinary financial support through both scholarships and investments in piano assets. The honor will be presented by Chancellor Don Betz and is based on the recommendations of the Faculty Senate External Relations Committee.
Jerome has established five scholarships, awarded annually in music, agriculture or education, that are named for her parents, the late Wallace and Marion ('40) Jerome (founders of Jerome Foods), and her twin aunts, Lila Estenson Byng ('47) and Lola Estenson Yde ('48). She has also provided funding for talented UWRF student musicians to attend or perform at such summer programs as the Aspen Music Festival. Jerome has also been recognized for her life-long support of UWRF and other colleges and universities, the federated music club, her church, community and school music activities with the Community Service Award from the Wisconsin Music Education Association. She holds an M.B.A. from UW-Madison.
Congratulatory messages to the new UWRF alumni will also be given by David Rainville, chair of the Faculty Senate, and Derek Brandt, a senior majoring in history from St. Paul and president of the Student Senate. The graduates will be welcomed into the UWRF Alumni Association by Jeffrey McCardle, alumnus and director of the UWRF Foundation. The 2007 student recipient of the Chancellor's Award for service to the university, Katherine J. Leisch, a graduating senior majoring in health and human performance, will also be recognized at the program. The ceremony will also include a special remembrance of Lt. Tracy Alger, a UWRF alumnus who was killed in the line of duty while in Iraq in 2007.
Degrees will be conferred by Chancellor Betz and presentation of the candidates will be from: Connie Foster, provost and vice chancellor for academic affairs; Terry Brown, dean of the College of Arts and Sciences; Dale Gallenberg, dean of the College of Agriculture, Food and Environmental Sciences; Barbara Nemecek, dean of the College of Business and Economics; Faye Perkins, dean of the College of Education and Professional Studies; and Douglas Johnson, associate vice chancellor for academic affairs and director of graduate studies.
Barbara Bright, a graduating senior and music education major from Minneapolis, will sing the "Star Spangled Banner" and the "UWRF Pledge Song" accompanied by the River Falls Brass.
-30-
Last updated: Thursday, 22-Apr-2010 16:08:42 Central Daylight Time