UW-RF Home > University Communications Home > This Month's News Releases
University Communications
For more information contact mark.a.kinders@uwrf.edu or brenda.k.bredahl@uwrf.edu.
'You're a Good Man Charlie Brown' to Open
NOV. 21, 2007--The mishaps and antics of popular Peanuts' character Charlie Brown and his calamitous group of friends is coming to the stage of the Blanche Davis Theatre at the University of Wisconsin-River Falls.
The university's student theatre organization, Masquers, will offer up the musical comedy "You're a Good Man, Charlie Brown" from Dec. 6 to15.
After its Broadway premiere in 1971, "You're a Good Man, Charlie Brown" was a wildly popular hit, with a run of 1,597 performances. The show was written by John Gordon, with music and lyrics by Clark Gesner, and additional music by Andrew Lippa.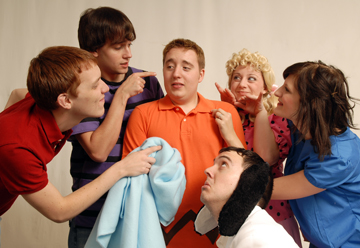 Based on the motley crew of individuals from the beloved comic strip by the late Charles Schulz, the production features Charlie Brown's quest to find out what a "good man" truly is. In true Peanuts fashion, his little sister, pet dog, main antagonizer, and other friends attempt to help but leave Charlie Brown more confused than ever.
The cast and crew of this show are composed entirely of students. Kyle Olson, of Shawano, Wis., plays Charlie Brown; Kristy Reid, of Waconia, Minn ., plays Sally Brown; Al Broeffle, of Cloquet, Minn. , plays Snoopy; Rachel Hafele, of Forest Lake, Minn., plays Lucy Van Pelt; Kyle Szarzynski, of Eden Prairie, Minn ., plays Linus Van Pelt; and Greg Lund, of Woodville, Wis ., plays Schroeder. Krissie Weckman, of Shakopee, Minn., is directing the show.
Performances begin at 7:30 p.m. each night. Tickets are $7 for adults and $4 for students and seniors. Tickets are available by phone at 715-425-3114 or toll-free at 800-228-5423, or for walk-up sales at the box office, located in the lobby of the Kleinpell Fine Arts building. The box office is open from 10 a.m. to 3 p.m. weekdays and for one hour before each performance.
Masquers is a UWRF student organization composed of students from diverse majors and backgrounds. The group produces, supports, and promotes one major student-run production per year in addition to the University Theatre's shows.

For more information on this production or Masquers, please contact theater Professor Robin Murray at 715-425-3097.
-30-
Last updated: Thursday, 22-Apr-2010 16:08:40 Central Daylight Time