UW-RF Home > University Communications Home > This Month's News Releases
University Communications
For more information contact mark.a.kinders@uwrf.edu or brenda.k.bredahl@uwrf.edu.
UWRF Faculty, Staff Recognized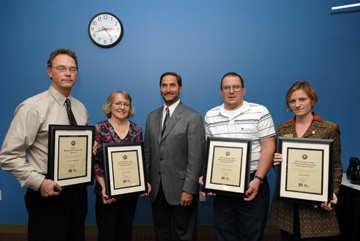 NOV. 12, 2007--Several faculty and staff at the University of Wisconsin-River Falls recently received awards for their service to campus, including academic and classified staff recognition awards as well as advisor of the year and distinguished teacher awards.
Nominations for each award were from campus peers or from graduating seniors and former students, depending on the award. "Through the nomination process, we learned about many wonderful individuals on this campus," said UWRF Chancellor Don Betz. "I congratulate each of you for your accomplishments. You have made numerous contributions and I anticipate that we will see you recognized for your special accomplishments in some future year."
To the awardees, Betz said, "The leadership recognized here today is an important part of the traditions of excellence and the culture on this campus. It is doubly important as we look to the future - to fulfilling our mission, vision and values - all centered on serving students effectively."
Herb Cederberg, of St. Paul, received the Advisor of the Year Award, given for past service to students. An emeritus professor of history, Cederberg joined UWRF in 1966 and retired in 1999. He received B.A., M.A. and Ph.D. degrees from the University of California Berkeley and was a postdoctoral fellow at Northwestern University in Chicago. Prior to coming to UWRF he taught at the University of California-Davis and after joining UWRF was an assistant visiting professor at the University of Minnesota for a year. In the early 1970s he co-founded and was director of the UWRF Minority Services Office and was the recipient of several state and national grants for his research and publications. For many years, Cederberg led an annual study tour to the Washington, D.C. area and a colonial history tour to sites around the East Coast.
Gayle Dodge, of Ellsworth, received the Chancellor's Recognition Award for Classified Staff. Dodge has a degree from Eau Claire Technical College, and worked for the University of Wisconsin Eau Claire before transferring to UWRF after she was married in 1972. She worked in the accounts payable department for three years then took a few years off to spend more time with her children. She then returned in 1982 to part-time position in the parking office. In 1985 she transferred to a full-time position in the agricultural economics and agricultural engineering departments and plans to retire from that position in the next few years. She is actively involved with the American Cancer Society's Relay for Life and the Hearing Loss Association of Western Wisconsin and was a past coordinator of her church's food booth at the Pierce County Fair. In a nomination letter, David Trechtor of the Survey Research Center on campus, wrote, "Gayle is simply integral to the functioning of both departments with which she works. ... Without a doubt, Gayle Dodge is the best [program associate] with whom I have had the pleasure of working.
Joe Langer, of Hager City, also received the Chancellor's Recognition Award for Classified Staff. Langer, who graduated from the Delavan School for the Deaf in 1983, is a custodian in the Chalmer Davee Library, a post he had held for 21 of his 22 years as a campus employee. Langer's library co-workers such as Brad Gee offered this praise in nominating him for the award: "... Joe's work ethic is contagious. There is no justification for being slothful in the presence of a man who is hefting chair onto tables as if they were matchsticks - and this after having completed the morning chores on the farm." Library Director Valerie Malzacher had this to say: "Joe is one of the most hard-working, dedicated, friendly and helpful individuals that I have ever had the pleasure to work with. I came to realize just how dedicated Joe is when were challenged with two years of library remodeling."
Amy Lloyd, of St. Paul, received the Chancellor's Recognition Award for Excellence for Academic Staff. She received a bachelor's degree from the College of St. Benedict, a master's degree from St. Cloud University and a second master's from Cleveland University. Lloyd is currently a leadership coordinator in the division of student affairs and was previously a student support services coordinator. Student Lucky Vang, who was Lloyd's advisee, said this in nominating Lloyd: "Amy has taught me to become a better person, how to get involved around the community, how to stand out, how to socialize with others in a calm manner, and many other things that have changed who I am." Lloyd was a cofounder and organizer of several campus service efforts, including the receipt of a Campus Compact grant to establish the Falcon Fellows, a program that connects UWRF students with children in River Falls through the America Reads program; Gillette Children's Hospital Smiles 4 Kids; the Building Tomorrow project, which sent UWRF students to Uganda to assist in the construction of a boarding school; and "alternative" spring break trips to the various areas for service projects including Minneapolis and Gulfport, Miss. Lloyd also volunteers at Sharing and Caring Hands in Minneapolis. Nominator and colleague Tyra Nelson says of Lloyd, "Serving is not what she does; it's who she is."
James Madsen, of River Falls, is the recipient of the UWRF Distinguished Teacher Award. He has held a number of positions prior to his arrival at UWRF in 1989. He was a postdoctoral research assistant in physics and polymer science at the University of Massachusetts-Amherst from 1987 to 1989, and an IBM graduate fellow with the physics department of Colorado School of Mines from 1985 to 1986. He also was a visiting professor at UW-Madison from 1999 to 2000. He is now a professor of physics and chair of the UWRF physics department. A recipient of numerous National Science Foundation grants, Madsen has been involved with the IceCube project, which involves neutrino astrophysics research at the South Pole. Several students have had the opportunity to work with Madsen on this project in Antarctica and Madsen has given presentations on the research project around the globe and had his work published in many scientific journals. In 1997, Madsen helped establish the Western Wisconsin Polymer Lab on campus. He and his family have served as a host family for numerous international students and he has been a judge with the West Central Wisconsin Regional Inventor's Fair. A nominating student wrote: "He can take a subject matter relatively unknown to a student ... and make it interesting." Another wrote: "Dr. Madsen was extremely enthusiastic about helping me get started with my research."
Photo cutline: L to R: James Madsen, recipient of the UWRF Distinguished Teaching Award; Gayle Dodge, recipient of the Chancellor's Recognition Award for Classified Staff; Chancellor Don Betz; Joe Langer, recipient of the Chancellor's Recognition Award for Classified Staff; and Amy Lloyd, recipient of the Chancellor's Recognition Award for Excellence for Academic Staff . Not picture: Herb Cederberg, UWRF Advisor of the Year Award.
-30-
Last updated: Thursday, 22-Apr-2010 16:08:40 Central Daylight Time