UW-RF Home > University Communications Home > This Month's News Releases
University Communications
For more information contact mark.a.kinders@uwrf.edu or brenda.k.bredahl@uwrf.edu.
Reflecting on the Other Side of the World from River Falls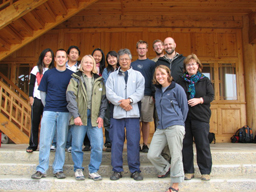 NOV. 12, 2007--University of Wisconsin-River Falls sophomore Jason Kittel, an art education major from Star Prairie, Wis., carefully puts the final edits a film in a campus computer lab on a sunny autumn day. The plethora of images that flash across the screen transport him to summer in the foothills of the Himalayan Mountains in China where he and five other UWRF students had an adventure of their lives in a world much different than home.
The student group was invited by UWRF distinguished alumnus How Wong Man, who is founder and president of the China Exploration and Research Society (CERS), with a center near Shangri-La in the Yunnan Province of China.
A film on their summer experience, "Fire and Earth: A Look Into Traditional Nixi Tibetan Blackware Pottery," premiered Nov. 14 at the Kinnickinnic River Theater at the UWRF University Center.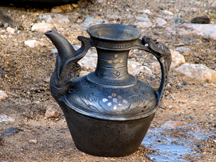 Among the six students were graduate student Sandra Anderson of Hayward, Wis.; Kittel; Andrew Moore, a senior art educational major from Stillwater, Minn.; Karen Pedersen, a senior chemistry major from Stillwater; and Nicholas Bisley, a senior conservation major from Gresham, Wis. An incoming freshman from Kunming, Yunnan, China, Haiya (Sarah) Zhang, who is studying business administration at UWRF, joined the group as a student and interpreter. Faculty advisor and art professor Lynn Jermal and her husband, Kevin Caldwell, of Hudson, Wis., accompanied the group.
Before reaching the CERS center in Shangri-La, the group spent a week exploring other areas of China. In Beijing they learned about Chinese dynasties by visiting the Forbidden City, the Great Wall and the Ming Tombs. Although massive scale, these spaces contrast greatly with the hutongs, the winding ancient neighborhoods of China.
The group enjoyed dinner at the home of Mr. Fong, who explained the fine art of cricket fighting with its specialty tools and shared his grasshopper collection, kept in a small bamboo cage. The Chinese keep the crickets and grasshoppers for sound as well as sport.
The group also visited the tomb of China's first emperor, Zin Shi Huang (259-210 B.C.) where more than 8,000 finely sculpted, life-size terracotta soldiers and horses were discovered by local farmers in 1974. Later they explored the beginnings of Chinese civilization at the Shaanxi Provincial History Museum and its Han and Tang Dynasties artifacts collection.
When the group arrived in Zhang's hometown of Kunming, the capital of Yunnan Province, they began to become acclimated to the higher altitude of northwest Yunnan. They viewed "Dynamic Kunming" a music, dance and theatrical display of the songs, dances and instruments of Yunnan's 26 minority tribes.
From there, they visited the Stone Forest, a geographical site of outcroppings of limestone in fingers and groupings, and Ethnic Nationalities Park, with exhibits on the lifestyle, art and architecture of the regional tribes.
To prepare for higher altitudes, the group took Ginseng tablets and green tea on the plane. From the airport, they journeyed by Land Rover to the Shangri-La CERS Center, which would serve as headquarters for their study and research.
From July 31 through Aug. 20 the group worked on service learning projects. In 2005, Bisley had helped plan new sanitation stations and several walking and hiking paths in Langdu, a small remote village with a small yak cheese factory that encourage eco-tourism.
These previous efforts by UWRF staff and students have helped pave the way for the tourists to visit these remote regions. "I saw few westerners or Chinese tourists around Shangri-La in 2005," said Jermal, who also was on the first trip to Langdu. "Now there are Internet cafes, ATM's and many middle-class Chinese and independent western travelers everywhere."
Several projects focused on arts conservation. The group was escorted over narrow mountain roads into a beautiful valley to document the flourishing Tibetan pottery tradition in Tangdui in Nixi Township. They stayed at the 10-month-old Nixi Kang Sang Guest House, the only inn and restaurant in this village along a rushing brook. Some conditions were primitive; for example, a visit to the outhouse required a walk across some logs over a rushing stream, under a cow gate and up a path, Jermal said.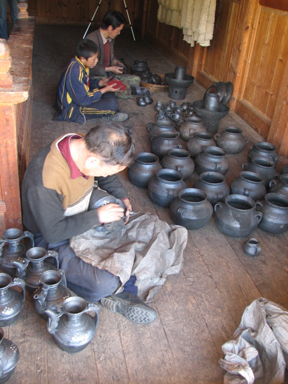 Each day the group was escorted to the master potter Sun Nuo QiLing's house where he and one of his sons made the traditional black pottery that eight generations of family have made. QiLing apprenticed with his grandfather, also a master potter, after primary school, and at age 13 and spent five years learning the craft. QiLing has trained many of the other potters of the village's 30 families, of which two-thirds have a potter or two in the family earning part of the family's income. Most potters make between $400 and $1,000 a year working daily at their craft with about 10 days off during planting season.
QiLing and his son each work about eight hours a day at a simple board using tools they have carved. From digging the red clay and creating clay vessels to firing the finished pieces in a pit, the entire process is done without gas or electricity.
The UWRF students filmed and documented the process. "The firing process that the master executed for us the last morning of our visit is an amazing memory," said Anderson. After they were formed, the pots were gradually dried near the wood stoves or in the sun and then on ceiling racks in the large family room and stacked among wood pieces. Pine boughs were stacked around the pile, and wood shavings and kindling was lit to start the wood pieces burning.
After the fire quieted, the fired pots were covered with sawdust and ash to cause reduction, which blackens the color. The students then dug them out with sticks and poured a mixture of yogurt whey and barley powder into the interior to rid the pot of toxins and seal the cooking surface. Once they accounted for all the pots they were transported into the house by baskets on their backs to be polished and cleaned. The entire process took about three hours.
Around the homes were small fields for their barley, corn or cash crops like sunflowers as well as stupas (places for Buddhist offerings), stone fences, and branch barriers to designate family areas or pastures for pigs, chickens or a cow or two. Meat animals are housed in a courtyard inside a walled area on the first floor of each Tibetan home.
Each home has wide verandas on the second and third floor and a small temple room for prayers, storage rooms, bedrooms, the potter's workroom and toilets. The homes are large, covered in stucco, often decorated with carved wood and painted reliefs. Each day the master's wife made the students a traditional lunch of braided bread, yak cheese, butter tea and other folk dishes using wood-burning stoves.
After a week of working in Tibetan homes the group headed back to record their field notes and work on several projects at the CERS center. One result is the film that Kittel and Zhang have produced as well as a book illustrating the pottery process to be produced in English, Tibetan and Mandarin Chinese.
Students also designed business cards and posters for QiLing and the Nixi Kang Sang Guest House. They also made multiple trips to interview and tape a Tibetan musician, Cai Rang Dan Re Shi. Through an interview and his first video-taping experience, Re Shi shared the instruments and traditional songs of Tibetan music, some of which are endangered because so few can build and play the instruments. His music is featured in the Nixi pottery film, and students plan to produce a film of Re Shi to help preserve Tibetan music.
As the students finalized their research projects at the center, Chinese children approached them to practice the English they learn in school. The children's parents beamed with pride, and the students experienced some of their most treasured moments.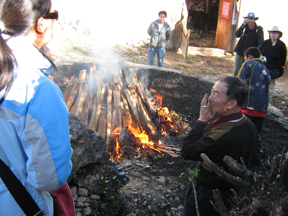 This unique opportunity for a global experience will continue through the partnership with the CERS and the generosity of its founder How Man Wong, says Jermal. "UW-River Falls is unique in offering such a profound internship experience in this changing part of China," she said.
Bisley agrees that the experience is profound. "The internship provided the opportunity to experience a very different culture in a way tourists cannot. Staying in Tibetan villages for an extended period allowed me to relate to the culture and people and see myself as part of the community fabric. I also began to look at my own culture in a new way."
Photos: Top, right: Back row, L to R: Tracy Man, CERS accountant; Sonam Doriji, CERS translator; Haiya (Sarah) Zhang, who is freshman business major from Kunming, Yunnan; Polly Chik, CERS staff; sophomore Jason Kittel, an art education major from Star Prairie, Wis.; Nicholas Bisley, a senior conservation major from Gresham, Wis.; Kevin Caldwell of Hudson, Wis. Front row, L to R: Andrew Moore, a senior art educational major from Stillwater, Minn.; graduate student Sandra Anderson of Hayward, Wis.; CERS founder/director and UWRF alumnus Wong How Man; Karen Pedersen, a senior chemistry major from Stillwater; and UWRF art Professor Lynn Jermal of Hudson.
Middle, right: Master Potter Sun Nuo QiLing (foreground) cleaning pots with his grandson (center), and his son, (background). Both Sun's grandson and son are learning the art of the traditional Tibetan pottery.
Bottom, Left: UWRF students look on during the firing process.
-30-
Last updated: Thursday, 22-Apr-2010 16:08:39 Central Daylight Time