UW-RF Home > University Communications Home > This Month's News Releases
University Communications
For more information contact mark.a.kinders@uwrf.edu or brenda.k.bredahl@uwrf.edu.
Sculpture Traveled Campus, Finds Home in Fine Arts
By Lisa Stratton
UWRF University Communications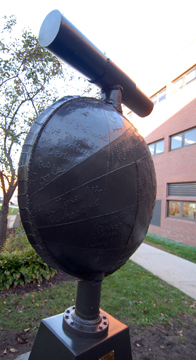 NOV. 5, 2007--A sculpture dedicated to the memory of Dr. Martin Luther King Jr. that seems to share a controversial history reflecting the era in which it was created has finally found a permanent home at the University of Wisconsin-River Falls.
Commissioned by the UWRF class of 1968, the 10-foot sculpture was created by a young professor at UWRF. Doug Johnson had been a graduate student at UW-Madison and UW-Milwaukee during the mid-Sixties and witnessed first-hand the era's the social tensions, emerging counter-culture and political strife.
Like the 1960s, Johnson says his sculpture has faced its own share of issues during its nearly 40-year spell without a permanent home at UWRF. The sculpture has called four different locations around campus home.
"It's had an interesting career, shall we say," says Johnson, who has other artworks permanently installed on campus.
A 1960 graduate of UWRF's art program, Johnson came back to River Falls in 1965 to teach and spent the next 32 years of his career as a teacher, artist and musician who was always very passionate about art and the possibility of multiple meanings conveyed by the artist and recognizing that some interpretations might be controversial.
The sculpture was first installed at Rodli Commons in 1969 after its completion.
"During the construction of the piece, Dr. Martin Luther King, Jr., was assassinated and the papers had thousands of quotes from his speeches. I began cutting them out and saving them, and then ended up welding some of the big phrases onto the surface," says Johnson. "The overall shape of the piece was worked out on a potter's wheel. It consists of a flattened dome circle and a cross piece across the top that suggests something in balance."
While at Rodli Commons, the heavy piece faced the whims of a few vandals, and was toppled several times. The sculpture still bears a large dent one side, evidence of a particularly rough tumble to the concrete, says Johnson.
After a few more incidents, the sculpture was moved to the courtyard of Hathorn Hall, where the office of Minority Services was then housed. Johnson's monument to Dr. King spent several tranquil years in the yard at Hathorn Hall, until it was displaced by a large cement patio added to the front of the building.
Once again, it was clear the sculpture had to move, Johnson recalls, but no clear solution was found as to the best place to put it. With no consensus on a new address, "Homage to Martin Luther King, Jr." was eventually deposited behind Central Stores building and nearly forgotten until a member of the maintenance department contacted Johnson with concerns about the abandoned piece of art.
"Doug Johnson, I believe, [provided funding] to having it restored," says Building and Grounds Supervisor Manville Kenney. "It had weathered quite a lot prior to removal [from storage]. Following that, we facilitated the project by having the concrete base installed and putting the sculpture in place."
"It has now been sandblasted and powder-coated, and looks very similar to what it did when it was new," says Johnson.
The massive sculpture has now taken up residence in the courtyard of the Kleinpell Fine Arts building, where the hundreds of students who pass by it each day can ponder the piece's physical representation of the power of diversity.
Terry Brown, dean of the UWRF College of Arts and Sciences, has an exceptional view of the sculpture's new placement, which is just outside the window of her office.
"I think it's wonderful," says Brown. "It has a message that is still relevant to us today."
UWRF Chancellor Don Betz also says that Johnson's outstanding piece has contemporary significance.
"Doug's artistry reminds us not only of Dr. King, his exceptional life and gifts, and the challenging times we faced as a nation while he was alive, but also of the values that he championed and for which he paid the ultimate price," says Betz. "It is important for us to embrace those values today: equality, inclusiveness, freedom, service and integrity. It reminds us of our unfailing obligation to take care of one another."
UWRF's art department plans to have a reception for the sculpture this coming spring.
"The art department is always excited to have more artwork displayed on campus," says Susan Zimmer, academic department associate. "I was fortunate to work with Doug Johnson before he retired, and have a great deal of respect for his contributions to the university and the community. The department is committed to the goal of inclusiveness, and find this to be a wonderful opportunity to continue to work in that direction."
Johnson received a B.A. degree in education from UWRF in 1960 and a master's degrees in art education from UW-Milwaukee and ceramics and glass from UW-Madison. Johnson began the nationally renowned glassblowing program at UWRF in 1967. In 1997, he retired from UWRF.
In addition to being an active performing and recording musician and exhibiting artist, in his retirement he has worked with numerous community organizations including the art program at the Renaissance Academy and the River Falls Community Arts Base, Art on the Kinni, Music in the Park and Relay for Life and others. Johnson and his wife, Margel, are also active with the Democratic Party in western Wisconsin.
-30-
Last updated: Thursday, 22-Apr-2010 16:08:39 Central Daylight Time