UW-RF Home > University Communications Home > This Month's News Releases
University Communications
For more information contact mark.a.kinders@uwrf.edu or brenda.k.bredahl@uwrf.edu.
New Falcon Foods Product Blends Cheese and Wine
By Melissa Klein
UWRF University Communications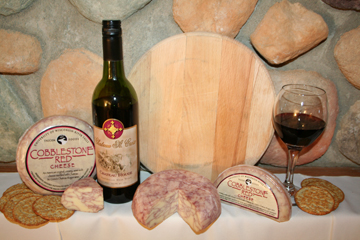 NOV. 5, 2007--For some people, cheese and wine go together like milk and cookies. University of Wisconsin-River Falls students, faculty and staff took this tried-and-true combination to a new level to create a new cheese called Cobblestone Red, which is now offered at Falcon Foods on campus.
This Wisconsin original was created combining a creamy semi-soft cheese with the fruits of a local winery and vineyard -- Chateau St. Croix near St. Croix Falls, Wis. The cheese uses the vineyard's Chateau Rouge wine, which is a specialty blend of red Zinfandel and Muscat that creates a rich, full bodied sweet burgundy colored wine and carries the flavors of fresh berries, black cherries and vanilla. It enhances the asthetic, flavor and texture of the University's white Cheddar curd artisan cheese, says Ranee May, Falcon Foods plant manager and UWRF instructor.
May came up with the idea about two years ago, and through her experiential learning class she put the plan into motion. "I was just thinking about the idea and it snowballed from there," said May.
The slogan on the cheese is "Made by students with student pride." UWRF students determined what equipment was necessary for the production, and the dairy plant employs students who produce the cheese. "When students take pride in what they are doing, you receive a better quality product," said May. "The students have ownership in Cobblestone Red."
Typically through their coursework, UWRF students learn to make the more common Wisconsin cheese varieties. Recently Gov. Jim Doyle announced that in 2006 Wisconsin Cheese produced 2.5 billion pounds of cheese, which sets a national record. Wisconsin produces about 26 percent of the nation's cheese; this growth in production is credited to the demand for "high-quality and specialty cheeses." These artisan cheeses accounted for 45 percent of the national specialty cheese market and increased in Wisconsin by 26 million pounds.
To address this changing U.S. cheese market and stay on top, Falcon Foods formed a partnership with Chateau St. Croix, a relatively new winery in the St. Croix Valley, to inspire the UWRF students to create and market additional artisan cheeses that incorporate or pair with the wines that are locally made.
The students and Falcon Foods also worked with the Dairy Business Innovation Center, a Madison-based nonprofit organization dedicated to growing specialty and artisan dairy businesses, to determine marketing strategies.
Many surveys and tests were performed. Laura Wojchik, a marketing communications major with an agricultural emphasis from Amery, helped with the marketing aspect of the new product. "This has been a great opportunity for students and awareness of the product will continue to grow," said Wojchik.
Steve Johnson, a food science major from Dorchester, works in the dairy plant and makes Cobblestone Red. "It is a unique cheese that is not normally found in a grocery store," said Johnson. "It is a nice change of pace and is locally produced."
All Falcon Foods products are locally produced and ingredients are locally sourced when possible. The Falcon Foods dairy plant and barns at the new Dairy Learning Center complex on Lab Farm 2 are where dairy science students milk the cows and use the milk to to make cheese as part of the bachelor's degree program offered by the College of Agriculture, Food and Environmental Sciences.
Cobblestone Red premiered at the World Dairy Expo and was the talk of the trade center. It was also served at the recent UW System Board of Regents meeting on campus and the ribbon-cutting ceremony for the opening of the new UWRF Dairy Learning Center. The feedback was positive, said May.
Cobblestone Red can be purchased in the Falcon Food store located on the UWRF campus agricultural sciences building. May says Falcon Foods plans to work with distributors to get the cheese into local stores. It will also be available at the Chateau St. Croix Winery and Vineyard. To learn more about this and other items produced in the dairy plant visit www.uwrf.edu/food-science/ .
When Gov. Doyle issue a news release on Wisconsin's top cheesemaker spot in 2006, UWRF alumnus Rod Nilsestuen, who is Secretary of Agriculture, Trade and Consumer Protection, said the state's cheese industry has a bright future. "We see no end in sight for continued steady growth of Wisconsin's cheese sector," said Nilsestuen. "Wisconsin has led the nation in cheese production since overtaking New York in 1910." Nilsestuen has strong ties to UWRF and was honored in 1995 as the College of Agriculture, Food and Environmental Sciences as the Distinguished Agriculturalist.
Wisconsin has some 1,200 licensed cheese makers who produce more than 600 varieties of cheese, more than any other state or nation. The state also has more championship cheese awards than any other state. In the U.S. Cheese Championship, Wisconsin won 60 percent of the Best in Class Awards. In addition, Wisconsin has more organic farms and produces more organic milk than any other state.
-30-
Last updated: Thursday, 22-Apr-2010 16:08:38 Central Daylight Time