UW-RF Home > University Communications Home > This Month's News Releases
University Communications
For more information contact mark.a.kinders@uwrf.edu or brenda.k.bredahl@uwrf.edu.
CER Launches Friday Seminar Series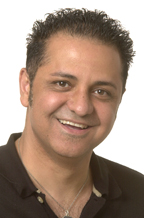 NOV. 2, 2007--The next University of Wisconsin-River Falls Center for Economic Research Friday Seminar Series is Friday, Nov. 16.
Hossein Najafi, a professor of computer science and information systems in the College of Business and Economics, presents, "A Neural Network Approach to Audio Data Hiding Based on Perceptual Masking Model of the Human Auditory System," which will showcase a new system that employs artificial neural networks to identify perceptually masked transmission opportunities within an audio stream.
"It is often desirable to infuse data signals into an audio stream to be transmitted simultaneously with the audio signal. The combined signal (audio and data) can then be transmitted over audio channels such as radio, telephone or television," says Najafi. " Such data signals can be used to deliver information such as product ID numbers, music titles, billing information, copyright information, virtual reality cues, speaker identification, and other similar information. The neural network is trained to automatically extract the perceptual map of the human auditory system. The network is then used at the encoding end to identify opportunities for transmission of inaudible data into the voice stream. At the decoding end, the network is used to monitor the audio channel for presence of masked data."
On Nov. 30, economics Professor John Walker will present "Effort and the Earnings of Self-Employed Women and Men in St. Croix County."
The series showcases research being conducted by the UWRF College of Business and Economics faculty, staff, students and also industry leaders.
A social with refreshments is from 3 to 3:15 p.m. in 317 South Hall, followed by the seminar in 321 South Hall from 3:15 to 4 p.m. The seminar series is open to UWRF faculty, staff, students and the public. All seminars are free.
For more information, please contact Brian Schultz at 715-425-3335.
-30-
Last updated: Thursday, 22-Apr-2010 16:08:38 Central Daylight Time