UW-RF Home > University Communications Home > This Month's News Releases
University Communications
For more information contact mark.a.kinders@uwrf.edu or brenda.k.bredahl@uwrf.edu.
'Best Little Whorehouse' Opens Oct. 25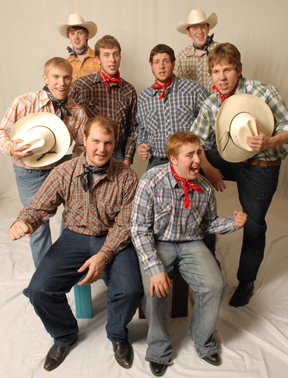 OCT. 22, 2007--"The Best Little Whorehouse in Texas," a musical based on the famed Texas bordello called Chicken Ranch, is slated to open at the University of Wisconsin-River Falls Oct. 25. A rollicking good time, the musical features more than 30 performers and a live country band. As a line from the show suggests, the show promises "...lots of good will and maybe one small thrill."
This happy-go-lucky view of small-town vice and statewide political side-stepping recounts the good times as well as the demise of the Chicken Ranch, known since the 1850s as one of the hottest pleasure palaces in all of Texas. Governors, senators, mayors and even victorious college football teams frequented Miss Mona's cozy den of prostitution.
Troubles begin when a puritan nemesis, Melvin P. Thorpe (aka "Watchdog"), focuses his television cameras and his righteous indignation on the institution. Placing pressure on the town to eventually close the doors of the historic Chicken Ranch, t he story parallels the story of the Chicken Ranch in La Grange, Fayette County, which was perhaps the oldest continuously running brothel in the nation.
The musical played first on Broadway in 1982 to packed houses. Despite the show's name, "it carries a very moral message not about prostitution, but about bigots who would attempt to use 'morality' as a weapon to achieve personal gain," says Jim Zimmerman, the show's director and a UWRF theater professor.
The production is full of good-time country tunes and down-home dancing, with choreography by Laura Helmer Decheine, of the Helmer Dance Studios, and musical coordination by UWRF music professor J. Michael Roy. The show contains mature language and content.
Performances are Oct. 25 - 27 and Nov. 1-3, with a 7:30 p.m. curtain. All performances are in the Blanche Davis Theatre of the Kleinpell Fine Arts building on the UWRF campus. Tickets can be purchased at the door on performance evenings through the University Theatre box office by calling 715-425-3114 or 1-800-228-5423.
-30-
Photo caption: UWRF students perform as the Texas A & M University football team in the musical, "The Best Little Whorehouse In Texas," which opens Thursday at UWRF's Blanche Davis Theatre. L to R, first row: Mark Barnard, a junior music education major from Westfield, Wis.; Kyle Olson, a freshman music education major from Shiocton, Wis. Row two: Nick Moen, a senior theater major from Colfax, Wis., Jonathan Lyksett, a sophomore social studies major from Cottage Grove, Minn. Row three: Ben Tufte, a freshman music education major from Plymouth, Minn. ; Mark Bergen, a sophomore theater major from Shakopee, Minn. Row four: Keith Cremin, a freshman communications studies major from Webster, Wis.; Ben Tatro, a sophomore theater major from Stillwater, Minn.
-30-
Last updated: Thursday, 22-Apr-2010 16:08:35 Central Daylight Time