UW-RF Home > University Communications Home > This Month's News Releases
University Communications
For more information contact mark.a.kinders@uwrf.edu or brenda.k.bredahl@uwrf.edu.
Profs Receive Another NSF Grant
By Melissa Klein
UWRF University Communications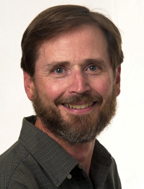 OCT. 12, 2007--Two University of Wisconsin - River Falls professors have recently received their fourth grant from the National Science Foundation to continue their case-based learning software in the biology department curriculum.
The work of professors Mark Bergland and Karen Klyczek, called Case-It!, has been funded for 19 years by the NSF, plus the pair also have received a fifth NSF grant, unrelated to the Case-It! project.
Bergland (right) became involved because he was interested in computer programming related to curriculum development and applied for the NSF grants. Klyczek (below) became involve through case development for the project.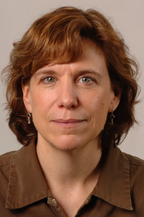 The purpose of the latest grant is to develop computer simulations integrating biomedical research techniques with bioinformatics tools for case-based learning in introductory biology courses.
The Case-It! computer program provides students with the opportunity to use molecular biological computer simulations to help students analyze DNA and protein sequences. It simulates the procedures laboratories do to test the DNA to detect genetic diseases.
The new grant focuses on DNA micro-array technology. "Case-based learning uses interesting examples, putting students into the role of scientific researchers," said Bergland.
Here at UWRF, the program is used in the non-majors biology classes. Students run simulations to determine if a person has the genetic make-up to carry a disease. After explaining the results, students have the opportunity to play the role of a genetic counselor by explaining what they would tell the patient.
The class has access to online discussion forums about the individual cases as they play the role of patient and counselor. It gives students experience in both aspects of genetics disease counseling.
Last year the program was downloaded by high school, university and technical college educators from 46 states and 47 foreign countries. "The schools who take part in the program may not have funding to afford the reagents to run the actual tests," said Bergland. "This program allows students to be exposed to genetics in a virtual sense and still learn about the procedures and outcomes."
Besides UWRF, six other universities are involved in the current grant, including Winona State University, the Inter American University of Puerto Rico (Metropolitan and San German campuses), North Carolina A & T State University, Pima Community College in Arizona, and Michigan State University. Educators from these schools help develop cases and/or test the program with their students.
For more information about Case It! visit the Web site at http://caseit.uwrf.edu .
-30-
Last updated: Thursday, 22-Apr-2010 16:08:34 Central Daylight Time