UW-RF Home > University Communications Home > This Month's News Releases
University Communications
For more information contact mark.a.kinders@uwrf.edu or brenda.k.bredahl@uwrf.edu.
UWRF Student Takes First at Barrel Racing at Falcon Rodeo
By Melissa Klein
UWRF University Communications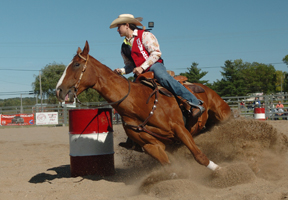 OCT. 12, 2007--Riding a horse in record time around three barrels without knocking them down is exactly what University of Wisconsin-River Falls student Rachel Tiedeman did at the annual Falcon Frontier Days Rodeo in September.
Tiedeman's win at the Falcon Rodeo will help her to build points to advance to the College National Finals Rodeo.
This is not the first rodeo Tiedeman, a freshman biology major from Rio, Wis., has competed in; in fact, she has been in rodeo since she was six years old. She began with the Little Britches Rodeo of Wisconsin, and then moved up to the Wisconsin High School Rodeo Association (WHSRA).
In 2006 she was the High School Rodeo Barrel Racing State Champion. This title allowed her to compete in the National High School Finals Rodeo with more than 1,500 contestants. Now she is part of the National Intercollegiate Rodeo Association and the Professional Rodeo Cowboy's Association.
Tiedeman explained that she is involved with rodeo because she enjoys what she gets out of it and how it affected her life. "I participate in rodeos because I enjoy the challenge of working with a partner (the horse) who cannot verbally communicate with you," said Tiedeman.
"It is the greatest feeling when you can win an event on a horse you have put so much time into. Rodeo has taught me how to work hard and to be responsible."
Only the top three competitors in each region for the event can advance to the College National Finals Rodeo. Tiedeman said her first place finish still means that she has to continue her hard work.
"I started the season out on the right foo7, but it's no time to sit back and relax," said Tiedeman. This fall there is another rodeo in Fargo, and in the spring there are six more rodeos that the team will compete in.
Besides winning the barrel racing event, Tiedeman, along with the other spectators, were able to view the new rodeo arena. A special ribbon-cutting ceremony was held. The new UWRF Rodeo Queen, Ashley Horsch, a sophomore animal science major from St. Joseph, Minn. was crowned.
In other results:
In the men's team, National American University (NAU) placed first with and impressive 860 points. Second place was awarded to Dickinson State University (DSU) with 700 points. Rounding out the top three was South Dakota State University (SDSU) with 670 points.
In the women's team Dickinson State University took home the first place award with 505 points. South Dakota State University placed second with 400 points and National American University took third place with 335 points. UWRF received fourth place.
DSU student Seth Jack Murphy received first place in the men's all-around followed by Tyler Randal Manke, NAU, and Nick Jack Guy, NAU, in second and third places, respectively.
The women's all-around top three participants were Jacquelyn Lerae Murray, SDSU; Jenna Ann Lein, NAU; and Ashley Dawn Schaper, DSU.
Charles Morris Schmidt, Black Hills State University, took home top honors in the saddle bronc riding followed in second and third by Jesse Joseph Cotton and Tyler Randal Manke, both of NAU.
Weston Perry Garret and John Tyler English, both from NAU, captured the first and second spots in the bareback riding followed by Joshua Darren Keller of DSU in third.
A long eight seconds paid off for first place winner Tyler Randal Manke, NAU. Second place was earned by Travis Eugene Van Loar, Iowa Central Community College, and a tie for third place went to Andrew John Coughlin and Jake D. Bode, both of SDSU.
Tie Down roping top three winners were Seth Jack Murphy, DSU, Brent James Stutton, SDSU, and Nick Jack Guy, NAU.
In the steer wrestling event Lance Volker, ICCC, received first place followed by Nick Jack Guy, NAU, in second and Tait Joseph Kvistad, SDSU, in third.
A tie for the first place in team roping header was between Dillo R. Kjerstad, SDSU, and Turner Knut Harris, DSU. There was also a tie for third place between Cody Richard Kingston, NAU, and Rex Dickinson Treeby, SDSU.
Ryan Merle Kjerstad, SDSU, and Seth Jack Murphy, DSU, tied for first place in the team roping heeler. A tie for third place went to Zachary Lynn Robinson and Elliot Bart Gourneau, both representing NAU.
In barrel racing event, second place was received by Adriane Marie Kochie, University of Wisconsin-Platteville, and third place went to Kayce Ann McCutcheon, SDSU.
The breakaway roping event top three were Jacquelyn Lerae Murray, SDSU, Ashley Dawn Schaper, DSU and Josi Wayne Price, DSU.
Elizabeth Rae Murphy, DSU, was the winner in the goat tying event, followed by Jena Ann Lein, NAU, in second place and Halley Mae Treeby, DSU.
-30-
Last updated: Thursday, 22-Apr-2010 16:08:34 Central Daylight Time