UW-RF Home > University Communications Home > This Month's News Releases
University Communications
For more information contact mark.a.kinders@uwrf.edu or brenda.k.bredahl@uwrf.edu.
68th Tri-State Geological Field Conference to be Held at UWRF
By Melissa Klein
UWRF University Communications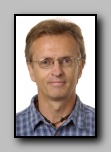 SEPT. 28, 2007--Geology professors, students and teachers from Illinois, Iowa and Wisconsin will convene at the University of Wisconsin-River Falls Oct. 5-7 for the 68th Annual Tri-State Geological Field Conference to explore a range of geologic topics spanning the Phanerozoic Time.
Participants will observe several lower Paleozoic rock units and discuss stratigraphy, weathering and paleokarst features. They will also visit an interesting structure present within pre-Wisconsinan glacial deposits in a gravel pit. The use of the on-campus stream valley as a hydrogeology teaching laboratory will be presented. A special car-caravan field trip will take participants to the Rock Elm Disturbance, an ancient extraterrestial (meteorite) impact structure located southeast of River Falls.
In addition to the conference, UWRF is combining the Rock Elm trip with their biannual UWRF geology alumni field trip.
Kerry Keen (above, right), UWRF geology professor and co-chair of the conference, says that hosting an event such as this is a win-win experience for both students and faculty. "It's also a give-and-take experience where the visitors will share other perspectives and ideas that will broaden our understanding of geology," said Keen.
UWRF students gain valuable experience in assisting with conference preparations and have the opportunity to engage with participants from other institutions, says Keen.
The conference rotates between the three states each year and provides the ability to see the similarities and differences between rock units across the Midwest. "It's critical for our geology students to get out and explore geology in the field," said Keen. "The university has one of the best representation at these conferences, and Mike Middleton and I chose to host the conference because of all the benefits we have received from attending past conferences."
Conference attendees will also view the new University Center, where the non-field events will take place. Keen said hosting it at the UC will align with the plan to introduce the idea of sustainability and green initiatives for the tri-state conferences by taking steps to reduce waste, recycle more, and re-use items connected with the field conference wherever possible.
For more information about attending the conference, please contact Sue Freiermuth in the UWRF department of plant and earth science at 715-425-3345.
-30-
Last updated: Thursday, 22-Apr-2010 16:08:32 Central Daylight Time