UW-RF Home > University Communications Home > This Month's News Releases
University Communications
For more information contact mark.a.kinders@uwrf.edu or brenda.k.bredahl@uwrf.edu.
Guest Artist to Visit UWRF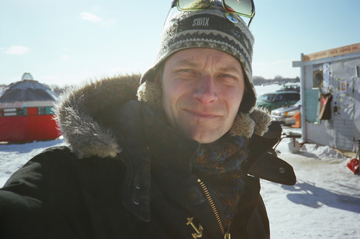 SEPT 28, 2007--Minneapolis artist Peter Haakon Thompson will speak about his photography that explores the concept of public and private places on Oct. 3 from noon to 1 p.m. in the Blanche Davis Theatre of the Kleinpell Fine Arts building at the University of Wisconsin-River Falls.
Thompson will show images of his work from the last 15 years and discuss the ways in which that work has changed along with the genesis of his projects, strategies and resources for realizing public art works. Immediately following the lecture, Thompson lead a tour of outdoor art installations on campus and offer perspective and discussion about the annual faculty-student outdoor exhibit that runs from Oct. 3 to 5.
Thompson has a B.F.A. from the California College of Arts and Crafts in Oakland and returned to Minnesota in 2000. His photography explores his personal and private relationship to landscape and place, and he visually explores places that are often ignored, such as fields and piles of rocks, both here and abroad. He has also created public art about place, "The A Project," in an effort to create solidarity among artists in their neighborhoods through the use of window signs with a large red 'A' indicating a household of artists/artist supporters.
Thompson also facilitated a public art community called "The Art Shanty Projects," which existed for five weeks on frozen Medicine Lake in suburban Minneapolis. A recent endeavor is the "Auto-Ethnographic Guide Service," started at the 2006 Minnesota State Fair. Its purpose is for community members to lead tours in their area of "expertise," such as thrift stores, the state fair, urban fishing destinations, and other places and activities in their neighborhoods.
Thompson's visit is facilitated by the UWRF art department and sponsored by the The Phipps Center for the Arts in Hudson, Wis., which received a patron grant to support Thompson's visit to the St. Croix Valley. Thompson will speak at The Phipps Center for the Arts on Thursday, Oct. 11 from 6:30 to 8:30 p.m. and at the River Falls Public Library on Wednesday, Oct. 17 at 7 p.m.
For more information about Thompson's visit, contact the UWRF art department at 715-425-3266.
-30-
Last updated: Thursday, 22-Apr-2010 16:08:32 Central Daylight Time