UW-RF Home > University Communications Home > This Month's News Releases
University Communications
For more information contact mark.a.kinders@uwrf.edu or brenda.k.bredahl@uwrf.edu.
Malzacher Participates in Phi Kappa Phi's 2007 Triennial Convention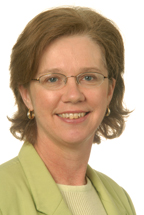 SEPT. 21, 2007--BATON ROUGE, LA.--Valerie I. Malzacher, of Hudson, Wis., was among 323 delegates, observers, guests, board members and society office staff to attend the 2007 Phi Kappa Phi National Triennial Convention in Orlando, Fla. from August 9 to11.
Malzacher, who attended the convention as a delegate, is a member of the University of Wisconsin-River Falls chapter of Phi Kappa Phi and was inducted into the society in 1999. Attendees of the convention listened to presentations by award winners from PKP's grant programs, shared ideas and inspiration at chapter training sessions, conducted the society's business and elected a new board of directors.
Founded in 1897 and headquartered in Baton Rouge, La., PKP is the nation's oldest, largest and most selective all-discipline honor society. PKP inducts annually more than 30,000 students, faculty, professional staff and alumni. It has chapters at more than 300 colleges and universities in North America and the Philippines. Membership is by invitation only to the top 10 percent of seniors and graduate students and 7.5 percent of juniors. Faculty, professional staff and alumni who have achieved scholarly distinction also qualify.
Since its founding, more than 1 million members have been initiated. Some of the organization's more notable members include former President Jimmy Carter, NASA Astronaut Wendy Lawrence, Baylor University head women's basketball coach Kim Mulkey-Robertson, writer John Grisham and Netscape founder James Barksdale. The Society has awarded approximately $12.7 million since the inception of its awards program in 1932. More than $700,000 is awarded annually to qualifying members and non-members through fellowships, undergraduate study abroad scholarships, member and chapter awards and grants for local and national literacy initiatives. The society's mission is: "To recognize and promote academic excellence in all fields of higher education and to engage the community of scholars in service to others." For more information on Phi Kappa Phi, please call 800-804-9880 or visit www.PhiKappaPhi.org.
-30-
Last updated: Thursday, 22-Apr-2010 16:08:30 Central Daylight Time