UW-RF Home > University Communications Home > This Month's News Releases
University Communications
For more information contact mark.a.kinders@uwrf.edu or brenda.k.bredahl@uwrf.edu.
Alumna Leaves Historic $1 Million Gift to UWRF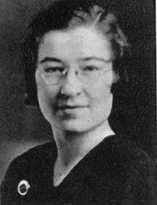 AUG. 29, 2007-- Through an historic donation, an alumna of the University of Wisconsin-River Falls who carved out a career in public service after graduating in 1938 has ensured that generations of future students will have access to an education.
A $1 million bequest--the largest gift in the 133-year history of UWRF--representing the estate of River Falls native Lucile Spriggs will be dedicated exclusively to leadership scholarships, according to Chancellor Don Betz.
The chancellor said the commitment was a testimonial to Spriggs's numerous leadership roles at the institution during her academic career, and meshes with a university priority.
"Developing leadership skills in our students has been a core value of UW-River Falls since its founding. We encourage students to explore these opportunities throughout their academic career with the hope that the experience will inspire lifelong contributions to society after they graduate.
" Lucile Spriggs was a model for others during her time on campus. The quality of those relationships here inspired her to make a life-long commitment to others in her professional life, and then to provide a definitive perpetual gift to UW-River Falls so that students can pursue similar dreams.
"In her exceptional manner, Lucile Spriggs has modeled the way for all of us to impact the future for many years to come. We honor her memory and her powerful example."
The scholarship fund will be named the R.E. Spriggs Family Memorial Scholarship, created in memory of Lucile Spriggs's parents, Roy and Maude Spriggs.
Each year $5,000 scholarships will be awarded to students who excel academically and show substantial leadership activities. Throughout their academic careers, the recipients will be provided special leadership development opportunities.
The scholarship will strengthen financial help available to major segments of the student body, including transfer students, non-traditional students over the age of 25, as well as freshmen.
UWRF provides numerous leadership development opportunities for students through over 150 students organizations, and participation in civic engagement and service-learning community projects. It will soon launch an inclusive comprehensive leadership development program to develop awareness, knowledge, and skills in the areas of the individual, group, and society that will produce committed leaders with an informed global perspective.
Lucile Spriggs graduated with degrees in social studies and English and worked in social services at the Veterans Administration Hospital in Minneapolis. At River Falls Teacher College she was the epitome of a student engaged fully in her classes and campus life. She was an honors student throughout her career, and wrote for the campus newspaper, acted with the student drama club, played in the Symphony Orchestra, was a member of the tennis team and an officer in the YWCA campus chapter.
UWRF Foundation President Nancy Devine said the gift, which will be administered by the Foundation, ensures that financial support will be available to students who are exemplary leaders, whether on campus or through providing community or civic service.
"At UW-River Falls, we have the perfect campus atmosphere for students to develop their strengths as leaders, with the purpose of them bringing these skills to their profession and to society.
"Developing 'leadership' is so interwoven into in our institutional life that we have identified it as one of four crucial values, with sustainability, globalization, and inclusiveness, to be embodied as a priority in our strategic plan, 'Living the Promise.'
"We know that Lucile Spriggs would be pleased that as a result of her endowment, she leaves behind a legacy of encouraging and preparing future leaders."
-30-
Last updated: Thursday, 22-Apr-2010 16:08:26 Central Daylight Time