UW-RF Home > University Communications Home > This Month's News Releases
University Communications
For more information contact mark.a.kinders@uwrf.edu or brenda.k.bredahl@uwrf.edu.
Students, Staff Attend Dairy Science Meetings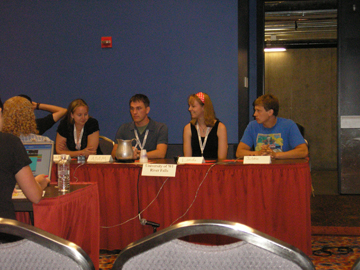 JULY 20, 2007--Four students and six faculty members from the University of Wisconsin-River Falls recently attended the combined meetings of the American Dairy Science Association, American Society of Animal Science, Poultry Science Association and Mexican Association of Production in San Antonio.
The student meetings were held July 7-10, and attracted students and advisors representing dairy clubs from 20 universities. Some 3,500 professionals from the United States, Mexico, Canada, and elsewhere also attended the meetings.
Two students and two alumni from the UWRF College of Agriculture, Food, and Environmental Sciences represented the campus dairy club, including: Justin Harsdorf, a junior dairy science major from Beldenville, Wis.; Londa Johnson, a sophomore dairy science major from La Crescent, Minn.; Leah Johnson, from La Crescent, Minn., who has a B.S. degree in agricultural education from UWRF and is the central states area representative for the American Jersey Cattle Association; and Adam Ward, from Arpin, Wis., who has a B.S. degree in dairy science from UWRF and will be attending veterinary school at UW-Madison this fall.
Five of the six faculty members represented the Animal and Food Science Department: Dennis Cooper, professor of dairy science and extension dairy specialist; Steven Kelm, associate professor of dairy science and department chair; Sylvia Kehoe, assistant professor of dairy science; Gary Onan, associate professor of animal science, and Bonnie Walters, professor of food science. Also attending was Tim Buttles, who is an associate professor of agricultural education.
During the meetings, the students participated in a dairy quiz bowl among dairy clubs and various contests including undergraduate paper competitions. They also attended business meetings and a career symposium, in which professionals representing various sectors discussed aspects of their industries, an industry job fair, and an awards luncheon. Students and faculty also attended symposia, oral sessions and poster sessions presented by professional members of the organizations.
The students attended the meetings as members of the American Dairy Science Association Student Affiliate Division. ADSA-SAD is a division of the ASDA professional organization that works to develop leadership and promote scholarship among students interested in the dairy industry, and to encourage students toward careers in dairy science. There are more than 400 undergraduate student members in ADSA.
Leah Johnson served as the incumbent third vice president, and Kelm served as one of three faculty advisors of ADSA-SAD during the meetings. Harsdorf was elected as officer-at large for next year, and Kelm will serve another year as faculty advisor. One of Kelm's duties was to organize the undergraduate paper competitions, which included a total of 16 papers in three categories: dairy production, dairy foods, and original research. Cooper served as a judge in the Original Research Competition, evaluating seven presentations of original research results by dairy science students.
Faculty also presented papers during the meetings. Walters and Buttles co-authored and presented an abstract, "Tracking undergraduate student performance while learning molecular genetics concepts." Kehoe was co-author of a poster, "Effect of weaning age on calving age, milk yield, and milk composition in the first lactation," based on research she conducted while a graduate student at Pennsylvania State University.
ADSA was established in 1906 as a scientific and educational association to serve the dairy and dairy-related industries through the discovery, application and dissemination of dairy science knowledge and information.
Photo, above: UW-River Falls students and alumni compete in a quiz bowl against California Polytechnical Institute - San Luis Obispo while attending the American Dairy Science Association Student Affiliate Division meetings in San Antonio in July. From left to right: Leah Johnson of La Crescent, Minn., Adam Ward of Arpin, Wis., Londa Johnson of La Crescent, Minn., and Justin Harsdorf of Beldenville, Wis.
-30-
Last updated: Thursday, 22-Apr-2010 16:08:25 Central Daylight Time