UW-RF Home > University Communications Home > This Month's News Releases
University Communications
For more information contact mark.a.kinders@uwrf.edu or brenda.k.bredahl@uwrf.edu.
UWRF Names Meydam as Admissions Director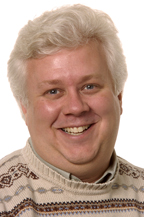 JULY 16, 2007--River Falls resident Mark Meydam has been named the admissions director for the University of Wisconsin-River Falls.
A 22-year employee who previously served as the assistant director, Meydam was named to his new position in June.
He replaces Alan Tuchtenhagen, who was named associate vice chancellor of enrollment services in January. At that time enrollment services was consolidated into a single unit, bringing together the offices of admissions, financial assistance and registrar's, to be led by Tuchtenhagen.
Meydam's responsibilities will include overseeing the implementation of the university's new student recruitment activities; coordinating high school visits, college fairs and campus tours; processing applications; tracking enrollment data; and supervising admissions staff and student volunteers.
"Naming Mark as the admissions director is an acknowledgement of what he is actually doing," Tuchtenhagen said. "We're very fortunate to have someone with Mark's qualifications, abilities and experience and who is willing to step forward into this critical position for the university."
Tuchtenhagen continued, "This is a very exciting time as the university continues its growth. We need someone who has a thorough understanding of the university and its planned and constructive growth that will meet the needs of the St. Croix Valley and Wisconsin."
Enrollment has grown steadily, posting records for eight of the last 10 years. In 2006 a total of 6,105 students were enrollment in bachelor's and master's programs. UWRF likely will set a new record this fall.
Meydam joined the staff as an admissions officer in 1985, and was named assistant director in 1988. During those years he initiated the student admissions guide program, and College Visit days.
He also played a critical role in the university's adoption and implementation of relational databases that manage all institutional student information.
Meydam is a member of the American Association of Collegiate Registrars and Admissions Officers; National Association of College Admission Counselors; and the Wisconsin Association of Collegiate Registrars and Admissions Officers.
His university service includes participation on committees that address technology policy and planning, web management, enrollment management, New Student Orientation, minority affairs, and public relations. He was elected to the Academic Staff Council, and he is an the adviser to Alpha Zeta.
Meydam is a 1985 graduate of UWRF, and in 1994 was presented the Chancellor's Award for Excellence. He is married to Katrina Larsen, who is director of outreach programs at UWRF.
-30-
Last updated: Thursday, 22-Apr-2010 16:08:24 Central Daylight Time