UW-RF Home > University Communications Home > This Month's News Releases
University Communications
For more information contact mark.a.kinders@uwrf.edu or brenda.k.bredahl@uwrf.edu.
SCVST's Season Open Is a Success
By Lisa Stratton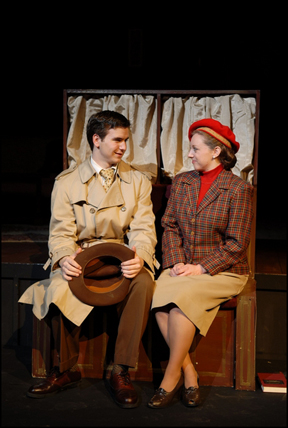 JULY 9, 2007--On July 1 the curtain fell on the final performance of St. Croix Valley Summer Theatre's production of "The Last Night of Ballyhoo." The 2007 season's opening show, written by Alfred Urhy, author of "Driving Miss Daisy," delighted both young and old with seven exceptional and comedic performances.
The hilarious Tony Award-winning play takes place in the 1939 German-Jewish society of Atlanta as Hitler takes over Poland and 'Gone With the Wind' premieres less than five miles away. The Freitag family could care less, however; they are enormously engaged in preparing for Ballyhoo, the annual lavish social event held by the city's exclusive Standard Club.
"I spoke with many play-goers who were deeply moved by the warmth and gentle humor in 'The Last Night of Ballyhoo.' It really amazed me at how well the actors understood their characters and were then able to pull the audience into the world of the Freitag family," says Michael Norman, managing director of SCVST. "Best of all, there was laughter at all the right spots and warm applause at the end of scenes and at the end of the play."
According to Norman, nearly 900 theatre-goers were able to experience the moving and comedic performance of the play.
"It was beautifully staged, well-designed and well-acted," Norman said. "The people who saw 'The Last Night of Ballyhoo' over its six-night run were delivered a real treat. I think they'd all agree it was a real gem."
Next up on the summer theatre roster is "Radio Gals," a musical comedy by Mike Craver and Mark Hardwick that is filled with tunes that pay tribute to the 1920s.
Performances are July 10-12, 14, and 18-21 at 7:30 p.m. with a matinee on July 15 at 1:30 p.m. All shows take place in the Davis Theatre of Kleinpell Fine Arts building, 420 Cascade Ave., at the University of Wisconsin - River Falls. For ticket information, please call the box office at 715-425-3114.
St. Croix Valley Summer Theatre is a semi-professional summer stock troupe based at the University of Wisconsin-River Falls. Located 25 miles east of Minneapolis-St. Paul in the scenic St. Croix River Valley of western Wisconsin, SCVST has provided quality summer entertainment to thousands of theatre patrons since 1966.
For more information about SCVST, call 715-425-3971 or email scvst@uwrf.edu.
Photo caption: Karl Gfall as Joe Farkas and Kristy Reid as Sunny Freitag in the St. Croix Valley Summer Theatre's opening season production of "The Last Night of Ballyhoo."
-30-
Last updated: Thursday, 22-Apr-2010 16:08:24 Central Daylight Time