UW-RF Home > University Communications Home > This Month's News Releases
University Communications
For more information contact mark.a.kinders@uwrf.edu or brenda.k.bredahl@uwrf.edu.
St. Paul Student Receives UW System Woman of Color Award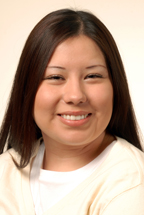 JUNE 29, 2007--University of Wisconsin-River Falls senior Lizeht De La Torre is the recipient of the University of Wisconsin System Woman of Color Award. The award honors UW students, faculty/staff or community members who have made outstanding contributions to their affiliate UW campus, and in particular, to diversity and women's issues.
The award is given by the UW System Office of Academic Diversity and Development. De La Torre, of St. Paul, is a senior majoring in international studies and political science.
De La Torre served as president of the Latino Student Organization where she promoted Latino culture through workshops and presentations on campus and in the Latino community in the Twin Cities. As a member of the Community Action Theater Troupe, she developed and presented cultural programming within K-12 schools. She was involved with "Take Back The Night" on campus and in Dane County.
In 2005, she organized the largest delegation from a four-year campus in attendance at the Women's Leadership Conference, and in 2006, presented at the same conference. In 2005 she was vice president of the UWRF Student Senate and visited the Wisconsin State Legislature regarding women's and campus issues. In 2006 she also mentored women from Mexico who were attending UWRF.
As a student senator, she worked with fellow senators to create the Multicultural Student Programming Center in which students worked with campus administrators to establish a space for the center.
"Her demonstrated advocacy for women, ability to bring diverse parties to the table to work out contentious issues, her love of family and her celebration of culture is setting the basis for her work in international relations," said Linda Alvarez, multicultural services advisor at UWRF, in nominating De La Torre for the award. "Social justice and activism is a part of her every breath ... I believe ... La Senorita Lizeht is in the mix for the long haul."
-30-
Last updated: Thursday, 22-Apr-2010 16:08:23 Central Daylight Time